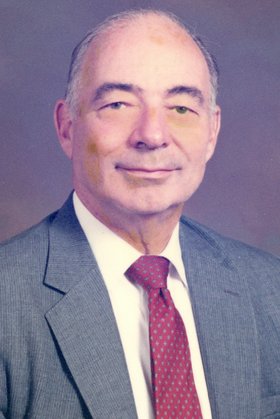 Donald F. Dew
unknown - October 17, 2012
Donald F. Dew, 88, died on Wednesday, Oct. 17, 2012, at his home in Fayetteville. Don was the younger of two sons born to Donald H. and Doris Hubbard Dew of Canastota. He was a graduate of Lawrenceville School and subsequently entered military service with the Navy and was commissioned as a Navy Ensign at the New York Midshipmen School at Columbia University. He later graduated from Northwestern University where he met his college sweetheart, Elizabeth Joy, who soon became his beloved wife.
Don returned to the Central New York area where he began working at the Diemolding Corporation in Canastota, a family business started by his father and a partner. He ultimately became chairman and president of Diemolding until his retirement. His greatest joy serving in these positions was the ability to provide jobs for the people that worked at Diemolding.
Don was a man filled with love for his family, friends, and community. His strong belief in giving back to the communities that he was a part of lead him to give his time, energy, and talents to many organizations. Locally, he was a member of the Board of Directors of Community General Hospital, Fleet Bank, the Cambridge Filter Company, and the Selflock Corporation. He also served on the boards of both the Onondaga Golf and Country Club and the Century Club. From 1989-1991, he was the Chairman of the Board of the Manufacturers Association of Central New York (MACNY).
In his beloved Adirondacks, he gave selflessly of his time serving as Chairman of the Big Moose Chapel Board of Directors, the Board President of the Big Moose Property Owners Association, and the President of the Webb Property owners Association.
Don was a much loved man and will greatly be missed by those that respected and loved him for who he was and what he contributed to the communities of Central New York and the Adirondacks.
Donald is survived by his two sons, Donald and Thomas; his daughter-in-law, Sarah; his grandsons, Donald and his wife Anne, and David; and his great grandchildren, Aidric Charles and Elsa Joy.
Services: 10 a.m. Monday, Oct. 22, at Eaton-Tubbs Fayetteville Chapel. Burial to follow in Mount Pleasant Cemetery in Canastota. Calling hours: 2 to 5 p.m. Sunday, Oct. 23, at the funeral home, 7191 E. Genesee St., Fayetteville. For directions, florists, or a guestbook, please visit scheppfamily.com. Contributions in memory of Don may be made to the Rescue Mission of Syracuse or the Big Moose Property Owners Association Recreation Program.