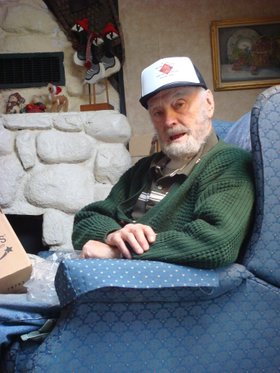 Philip J. McGovern
unknown - October 15, 2012
Philip J. McGovern of Baldwinsville, formerly of Orford, NH, and Hawthorne, N.Y., passed away peacefully on Oct. 15, 2012, at Francis House, in Syracuse. Born in the Bronx, N.Y. to Patrick and Lucinda (Lavery), Philip was a graduate of the St. Jerome Catholic School, Bronx, and the High School of Commerce (renamed Louis D. Brandeis High School), Manhattan. He completed a business curriculum at Commerce High School on a scholarship. Prior to the WWII, he worked for the American X-ray Company and the Pullman Company in New York City. In WWII, he served as a Technical Sergeant in the 45th Infantry Division (Thunderbird Division) and participated in the Battle of the Bulge and the liberation of Dachau concentration camp. After the war, Philip obtained a radio operator's license and completed the television technology training program of the Radio Corporation of America (RCA) Technical Institute, Cherry Hill, NJ. Thereafter, he worked as a TV Technician for RCA Service Company (later acquired by GE), based in North White Plains, NY and then Elmsford, NY for nearly 40 years. He rapidly developed a high level of diagnostic skill and very often was asked to assist such VIP RCA clients as Jackie Gleason, Mel Torme, Cab Calloway and Johnny Carson with their television problems. Philip was also an accomplished carpenter as well as electrician. He built the family home in Hawthorne, N.Y. and was active in home renovation projects in Westchester and Rockland counties. He and wife Lillian were parishioners and choir members of Holy Rosary Catholic Church in Hawthorne. Philip and wife Lillian moved to Orford, NH, in 1985. Their daughter Kathleen joined them there in 1987. Philip and Lillian were members of the choirs of Our Lady of Perpetual Help Catholic Church, Bradford, VT, and the Congregational Church in Orford. Philip made frames for Lillian's paintings and assisted her with other wood-based artistic projects. For a number of years Philip taught woodworking to campers at Camp Moosilauke, Orford, NH. Lillian and Philip celebrated their 66th wedding anniversary on Sept. 23, 2011. Philip was predeceased by his wife Lillian (Romaine), his sisters Mary Hirsch and Lucille McGovern and brothers Joseph, John and Vincent.
He is survived by his son Robert (Pnitpim) McGovern of Lampang, Thailand; daughters Patricia (Robert) Jokajtys and Kathleen McGovern of Baldwinsville, NY; granddaughter Amanda (Jeff Marotta) Yousey of Baldwinsville, NY; grandson Matthew (Lara) Jokajtys of White Plains, NY; sister Alice McGovern of New City, NY, and eight nieces and nephews.
Mass of Christian celebration: 2:30 p.m., Oct. 27 at St. Augustine's Catholic Church in Baldwinsville. An interment ceremony will take place in Orford, NH, in the spring of 2013. Contributions may be made to Francis House, 108 Michaels Ave., Syracuse, NY 13208 or to Hospice of CNY, 990 7th North Street, Liverpool, NY 13088.