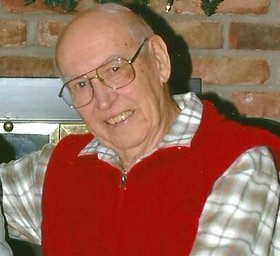 Howard W. Judd
unknown - October 17, 2012
A native of Juddville and longtime resident of Cazenovia, Howard W. Judd passed away peacefully on Wednesday, Oct.17, 2012, at the age of 89, surrounded by his beloved family.
As a child, Howard would walk to The Belmont School. He later graduated from Cazenovia Central High School and went on to attend Morrisville College.
In 1946, Howard married his light and love, Jane F. Freeborn, also of Cazenovia. They went on to have 3 children, Sara (Donald) Mitchell, Susan E. Gardner (Charles Staro), and Carl W. Judd. The happy couple could often be found twinkling their toes at the local dance club.
A school bus driver since 1948, Howard took over the family business a short time later, becoming the proprietor of Freeborn's Gulf Service in Cazenovia. After closing its doors in 1973, Howard went to work full-time for Cazenovia Schools, working as a bus driver, mechanic, and driver trainer. He stayed there until his retirement years later.
Howard was a loving family man, who enjoyed spending summers at their family camp on Tuscarora Lake. He was an avid fisherman, animal advocate and friend of the outdoors. He was a charter member of Sut's Hut and Jake's Place in the Adirondack Mountains.
He is survived by the loves of his life, his 3 children, 6 grandchildren – James Howard Mitchell (Suzanne), Kara Judd Litera (Joseph), Tyler Judd Mitchell (Heather), Leah S. Gardner (Daniel), Jill Alise Judd Kornegay (David), and Maureen J. Gardner (Jason). Also surviving Howard are his 7 cherished great-grandchildren – Jack, Davis, Lily, Fletcher, James, Paul, and Charlie and his favorite little man and Murphy, his beloved dog.
Funeral services were held on Sunday, Oct. 21, at Tait Funeral Home, Inc. 2333 Fenner Road Cazenovia. Calling hours were held Saturday at the funeral home.
Donations can be made to: Wanderer's Rest Animal Shelter, CNYASA, and CAVAC. To express online condolences please visit Taitfuneralhome.com.