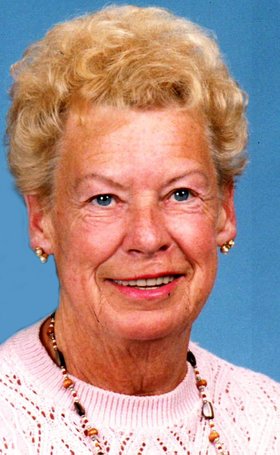 Hilda E. Taylor
unknown - October 16, 2012
Hilda E. Taylor, 82, of Kendallville, Ind., formerly of Warners, passed away Tuesday, Oct. 16, 2012 at Lutheran Hospital in Fort Wayne, Ind. Born in Ogdensburg, N.Y. on Friday, July 11, 1930, she was the daughter of Victor and Sadie (Brown) Easter. She lived in Warners before moving with her husband to Kendallville one year ago.
Hilda was a 1948 graduate of Ogdensburg Free Academy and retired in 1989 after 15 years with WSYR television. An active member of Amboy Belle Isle United Church, she served on a variety of women's groups. She loved spending time with her family and for 21 years, enjoyed spending her winters in Panama City Beach, Florida. She also enjoyed growing flowers, knitting, playing cards and bowling.
Hilda was predeceased by her parents; brothers, Eugene and Victor Jr.; and sisters, Barbara Mills and Audrey Shipman.
Surviving are her husband of 62 years, Robert of Kendallville, Indiana; sons and daughters-in-law, James and Sharon of Rome City, Indiana and Ted and Sandra of Marietta, New York; sister and brother-in-law, Jean and Lawrence Pirie of Ogdensburg; six grandchildren; and five great-grandchildren.
Calling hours: 4 to 7 p.m. Monday, Oct. 22 at the Buranich Funeral Home, 5431 W. Genesee St., Camillus.
Funeral services were at 10 a.m. Tuesday, Oct. 23 in Amboy Belle Isle United Church, 6190 Airport Rd., Syracuse with Gail Banks, elder, officiating. Hilda was laid to rest in Belle Isle Cemetery, Warners.
Please share condolences at buranichfuneralhome.com.