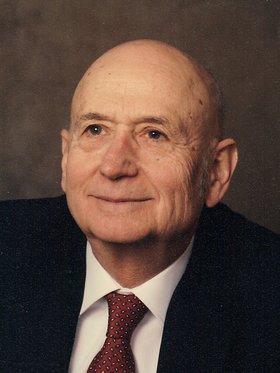 Dr. Frank Dickey, Jr.
unknown - October 19, 2012
Dr. Frank Ramsey Dickey, Jr., 94, formerly of Dewitt and Skaneateles, died on Oct. 19, 2012, in Wilmette, IL. Born in San Antonio, TX, Frank attended Schreiner University, Kerrville, TX, and the University of Texas at Austin, where he received a Bachelor of Science degree in electrical engineering in 1939. He began working in seismic exploration and was an inspector for the Signal Core Procurement Office in Chicago, before enlisting in the U.S. Army as an aviation cadet in 1941. After officer training, he attended the Harvard and MIT Radar School and served as a radar officer for an Army Air Corp group using microwave radar from MIT to track German submarines. He became a Project Officer for the Army Air Force Board in 1944 and was discharged the next year with the rank of major. After the war, he received an M.S. in Communication Engineering in 1946 and a Ph.D. in Applied Physics in 1951, both from Harvard University.
Frank began working as a consulting engineer for the General Electric Company in Syracuse, NY in 1950, and retired from the company in 1983. He made outstanding contributions to the fields of applied research in radar and sonar. In 1991 he received a Pioneer Award from the Aerospace and Electronic Systems Society of the IEEE. He was one of three people recognized for the development of platform motion compensation for moving target indicating radar. The Pioneer Award is the highest award of the AESS and honors key individuals in the aerospace community. Frank was elected to Fellow grade in the IEEE in 1966. He held 12 patents for his work on radar. In the field of sonar, he contributed to the development of a navigation sonar used in submarines and a transmit control algorithm applied to surface ship sonar.
Frank was predeceased by his wife of 63 years, Amy Read Dickey, and his two sisters, Jane Wood and Dorothy Hawthorne. He is survived by his three daughters, Susan (Joseph) Burleson, Nancy (William) Brown, and Patricia (Ralph) Troisi, six grandchildren, Brendan and Sean (Sonia) Lynaugh, Laura and Claire Brown, Jolene (Dennis) Craig and Jennifer Troisi, and two great-grandchildren, Caolinn and Meredith Craig.
Beloved by all his family, Frank was a kind and patient man who always put the welfare of others above his own. He and his wife Amy lived in Dewitt, NY for over 50 years and were active members of the Dewitt Community Church. An engineer at home as well as at work, he was always busy with projects and repairs around the home and garden, both in Dewitt and at the cottage in Sunset Cove, Skaneateles, NY where he and Amy spent their summers. He loved spending time with his children and grandchildren at the lake, teaching them to fish, making a special tree swing for them, or taking them to explore the creek or swim in the lake.
Frank was an avid reader and would usually have a history or biography book at hand, sharing the new information and ideas he learned. He also loved to travel, enjoying the adventure of exploring new places with his wife and family. An amateur radio operator for many years, Frank liked communicating with people around the world long before the age of computers. In retirement he developed an interest in his family genealogy and learned computer skills to help in his work. All who knew Frank will miss his inquiring mind, warm smile and loving heart.
Memorial service: 11 a.m. Saturday, Nov. 3, at Dewitt Community Church, 3600 Erie Blvd East, Dewitt. Burial: 11 a.m. Monday, Nov. 5, at Greenlawn Memorial Park, 2700 Parish Ave., Newport News, VA 23607. Contributions in Frank's name may be made to Schreiner University, 2100 Memorial Blvd, CMB 6229, Kerrville, TX 78028 or Alzheimer's Disease Research, 22512 Gateway Center Drive, P0 Box 1950, Clarksburg, MD 20871-1950. Info: 847-675-1990 or donnellanfuneral.com.