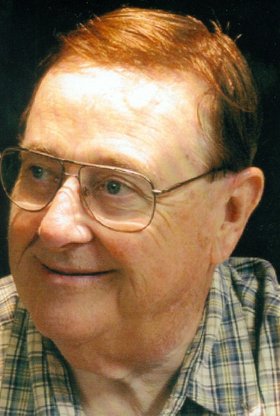 Wallace Moreland
unknown - October 12, 2012
Wallace Moreland, 82, of Manlius, passed away Oct. 12, 2012, at St. Joseph's Hospital on Friday after a short illness. Known for his kind heart, big personality, and generous hospitality, Wally was a dearly loved husband, father, grandfather and friend.
Wally was born in New Brunswick, NJ. He graduated from the Peddie School in 1949 and Rutgers University in 1953, followed by service with ASA in the United States Army. He was stationed in Frankfurt, Germany.
His career in sales began with the Friden Company in Baltimore, MD. After two years in Hartford, CT, he came to Manlius in 1969, where he entered the insurance business. He was with the MassMutual Financial Group for over 20 years. In the 1980s, Wally served as the public relations chairman for the Syracuse chapter of the NYS Association of Life Underwriters. He was presented with the National ALU's Citation for Excellence for his work in public relations in the state. He felt that "public relations was a fascinating and vital job," a belief he put into practice in the communities where he lived.
In Baltimore, Wally worked on the original committee to save the USS Constellation, (1797) now a landmark in the Baltimore Inner Harbor. In Syracuse, he served on the board of directors of the ABC (A Better Chance) committee in Manlius, and was president of the board of Salt City Playhouse. He was a member of several boards in the town of Pompey, committing himself to a town plan, and he actively participated in campaigns for candidates of his choice. He and his wife, Gail, are actively involved in the Town of Pompey Historical Society. A devoted and wildly enthusiastic Rutgers fan, he started the Rutgers Alumni Club in Central New York, and was honored in 1985 by being elected to the Society of the Loyal Sons of Rutgers.
Wally's long-time hobby and passion was collecting antique toys and Lionel Trains. A member for decades of the Train Collectors Association, his enormous train set-up at home was a source of joy to his family and wide circle of friends. His granddaughters affectionately called him "Grandpa Choo-Choo."
Wally is survived by his beloved wife of 55 years, Gail Gilbert Moreland; his adored three children, Leslie and her husband Craig Panaccione of Cape Cod; Gwen and her partner, Tom Corrigan, of Rutland, VT, Jonathan and his wife, Beatrice, of New York City; and their children, Anne-Gail and Juliette, who were his precious granddaughters. He is also grieved by his sister, Lucy Wistriech of Ft. Myers, FL; brother David Moreland and wife Sandy of Plymouth, MA; brother Jack Moreland of Manchester, CT, and several nieces and nephews.
For those who wish, memorial donations may be made to the Town of Pompey Historical Society, 8354 US Rt. 20, Manlius, NY or to the ABC Program, Inc., PO Box 355, Manlius, NY 13104. Newell-Fay Manlius Chapel of Schepp Family Funeral Homes has charge of arrangements. For a guestbook, please visit scheppfamily.com.