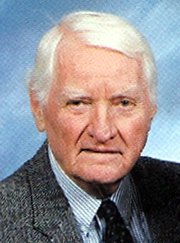 Thomas D. Hopkins
unknown - October 11, 2012
Thomas D. Hopkins, 88, of Syracuse, beloved husband, father, grandfather and great-grandfather, friend and gentleman, passed away Thursday, Oct. 11, 2012, at Cortland Regional Medical Center. Mr. Hopkins was a lifetime resident of the Salt City, born to Seymour and Cora Hopkins of Beattie Street. He was a graduate of Central Tech and attended St. Michael's College in Toronto and Syracuse University where he met Helen Bogdon, his devoted wife of 62 years, who passed away two years before her husband. A veteran of the United States Army, he proudly served his country here and in Japan during WWII. He was employed by Dun and Bradstreet in his early career and continued his financial work with Marine Midland Bank for 25 years.
His allegiance to the city of Syracuse and the Syracuse Orange was unwavering. He defined some of the most important work of his life through service to Our Lady of Solace as an altar boy and Holy Family Catholic Church as a Eucharistic minister, usher and loyal communicant with his wife at the 10:30 a.m. Sunday mass. Throughout his adult life as a friend and neighbor in Stanley Manor, he served as a Boy Scout leader, generous blood donor and volunteer on the cardiology ward at St. Joseph's Hospital. Most importantly, he found it a privilege to extend the courtesy of a cordial hello and an offer of an arm or a hand or an opened door to everyone he met. He was a good listener. An avid bowler and golfer, he was a member for more than 40 years and former treasurer of Tuscarora Golf Club.
Mr. and Mrs. Hopkins believed that their greatest achievement was their family. Their commitment to this endeavor lives in the love of their three children for each other and for their spouses: Kathleen and John Spencer of Boston, MA, Mary Louise and Ernest Lamberti of Plattsburgh, NY, Daniel and Joan Hopkins of Syracuse, NY; and for their grandchildren, Sarah Spencer Welsh (Joseph) and Benjamin Spencer (Erin), Matthew and Jonathan Lamberti, Lauren and Thomas Hopkins; and for their great grand-children, Graham and Jacob Welsh. He is also survived by nieces, nephews and cousins who will miss his knowledge of the family history and his presence in their lives.
The family would like to extend their gratitude to the staff of the Villas at Summerfield, to the Cortland Regional Medical Center, in particular to the skilled and compassionate teams in the ICU and 3 South, Dr. Van Doren and Dr. Humayun, and to his personal physicians, Dr. Joseph Barry, Dr. Robert Michiel and Dr. Bryan Rutledge.
Relatives and friends called from 4 to 7 p.m. Monday, Oct. 15 at the Buranich Funeral Home, 5431 W. Genesee Street, Camillus.
Services were held at 9:15 a.m. Tuesday, Oct. 16 at the funeral home and at 10 a.m. in Holy Family Church where Rev. Richard Prior Jr. celebrated a funeral Mass. Mr. Hopkins was laid to rest in St. Agnes Cemetery. In lieu of flowers, contributions may be made to Holy Family Church, 127 Chapel Drive, Syracuse, NY 13219. Please share condolences at buranichfuneralhome.com.