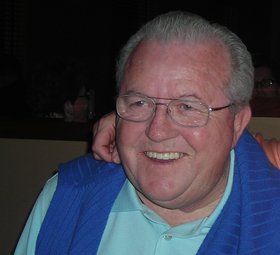 Stephen J. Gascon, Sr.
unknown - October 13, 2012
Stephen J. Gascon, Sr., 75, of Marcellus, passed away unexpectedly Saturday, Oct. 13, 2012, at Upstate University Hospital at Community General. Born in Rochester, he resided there until 34 years ago when he moved to Marcellus. He was the owner and operator of Upstate Distribution Inc. Steve was a member and Eucharistic Minister at St. Francis Xavier Church. He was a member of the Marcellus Rotary Club and past member of Tuscarora Golf Course for over 25 years.
He is survived by his beloved wife of 57 years the former Patricia Erbach; daughter Yvonne Gascon of Syracuse; sons Stephen, Jr. (Gretchen) and James (Debra); grandchildren April, Charles, Arienne, David, Emily, Matthew and Tyler; sister Luanne Zimmer of Henrietta, NY; brother Ralph Gascon Jr. of Rochester and several nieces and nephews.
Mass of Christian burial: 11 a.m. Thursday, Oct. 18, at St. Francis Xavier Church, Marcellus. Rite of burial is in St. Francis Cemetery, Marcellus. Calling hours: 4-8 p.m. Wednesday, Oct. 17, at the Plis Funeral Home, 33 North St. Marcellus. Memorial contributions may be made to El Portal Belen Foundation, C/O Greg Gavin, Treas. 51 Waterview Heights, Ithaca, NY 14850.