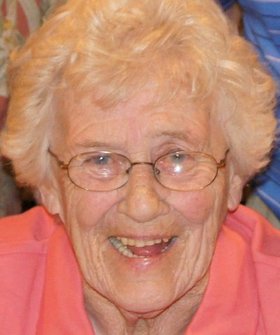 Henrietta McNeil
unknown - October 13, 2012
Henrietta Huxford McNeil passed away at Saturday Oct. 13, 2012, at Crouse Hospital in Syracuse after a brief illness.
Henrietta was born at St. Joseph's Hospital in Syracuse on Jan. 29, 1928, and grew up on Genesee Street in Skaneateles. Henrietta graduated from Skaneateles High School and was a proud member of the SUNY Cortland Class of 1949. Henrietta also earned a physical therapy certificate from Stanford University in California in 1951.
Henrietta married John C. McNeil Jan. 14, 1961 and they were happily married for 37 years before John died in April of 1998. Henrietta and John were the proud parents of four children Martha (Morris) Auster, Jack McNeil, Maureen (Dan) Wermers and James (Molly) McNeil, and enjoyed 14 grandchildren.
Throughout Henrietta's life she lived in Skaneateles, Albany, Cortland, Palo Alto, CA, Vestal and Palm Coast, Fla. Henrietta always returned to Skaneateles where she enjoyed the village, the lake, the local restaurants and the residents of the village. Henrietta was a member of The American Legion Post 239 Auxiliary, The Skaneateles Historical Society, St. Mary's of The Lake Church, the Skaneateles Lacrosse Booster Club and volunteered for Friends in Service Here (FISH) in Skaneateles. Henrietta enjoyed good times with family and friends, cheering on her favorite sports teams and was a lifelong lover of animals.
Also surviving are her brother J. David Huxford and 10 nieces and nephews. A funeral Mass was held Thursday, Oct. 18, at St. Mary's of the Lake Church in Skaneateles. Burial was in St. Mary's Cemetery, Skaneateles. In Lieu of flowers, donations may be made to SPCA of Syracuse or The Golisano Children's Hospital. To send condolences visit: robertdgrayfuneralhome.com.