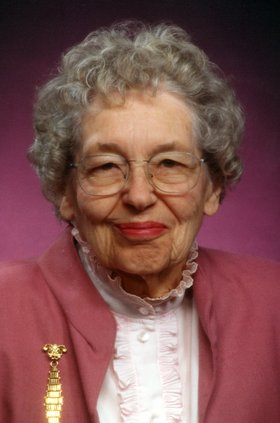 Doris Waldron
unknown - September 27, 2012
Doris Jean Bates Waldron, 93, formerly of Camillus, passed away Thursday, Sept. 27, 2012 at Menorah Park, where she resided since 2007.
Jean, as she was known to family and friends, was born in Rome, N.Y. on Sept. 21, 1919, and was the daughter of Herbert Fletcher Bates and Mary Zelpha Noble Bates. She was a graduate of Rome Free Academy (1937) and Albany Business College (1938). In 1943, Jean married Charles Edward Waldron, who died in 1978. They resided in Albany and Scotia until moving in 1949 to Delmar, where they resided until moving to Camillus in 1964.
Jean maintained a life-long interest in learning and interpersonal communication. Later in life, Jean enrolled in Empire State College where she obtained a bachelor's degree in community and human services with a major in human development and interpersonal relations in 1976.
Jean's volunteer experience included mentoring students at West Genesee High School, visiting through jail ministry, phone crisis counseling with CONTACT, program services at Syracuse Peace Council and facilitating Great Decisions discussion groups through the World Affairs Council. She pursued many additional means of personal expression including sewing, painting, drawing, writing poetry and a variety of handicrafts, all of which reflected her deep appreciation for the natural environment.
Surviving are her children and their spouses, Stephen (Beth) and Kristine (Burt Thomas) of Syracuse, Teresa (Robert) Capenos of Pennellville, and Jan (Lauren) of Richmond, Virginia; grandchildren, Cathrine (Julian) Worrall of Grand Island, N.Y., Christopher Geis of Las Vegas, Nev., Janelle and Lindsay Waldron of Richmond, Va., Samantha Capenos (Mark) Mulcahey of Phoenix, N.Y., Tyler, Audrey and Jackson Capenos of Pennellville, N.Y., Lara (Patrick) Richardson of Concord, N.H., and Ryan (Karen) Thomas of Mount Prospect, Ill.; great-grandchildren, Gillian and James Worrall of Grand Island, N.Y., Evelyn Capenos of Pennellville, N.Y., Marlie Geis of Las Vegas, Nev., and Tyler and Logan Mulcahey of Phoenix, N.Y.; sister, Mary Pearson of Brewer, Maine; 10 nieces, and nephews; and many great-nieces and great-nephews.
The family wishes to thank the staff of Menorah Park and Hospice of CNY for their compassionate care and support for Jean during her long struggle with dementia and in her final days.
There were no calling hours. Memorial service: 11:30 a.m. Saturday, Oct. 20, at in University United Methodist Church, 1085 E. Genesee St., with Rev. Craig French officiating. Arrangements were by the Buranich Funeral Home, Camillus. Jean was laid to rest in Oakwood Cemetery. In lieu of flowers, contributions may be made to Southern Poverty Law Center, 400 Washington Ave., Montgomery, AL 36104 or to Alzheimer's Association of CNY, 441 W. Kirkpatrick St., Syracuse, NY 13204. Please share condolences at buranichfuneralhome.com.