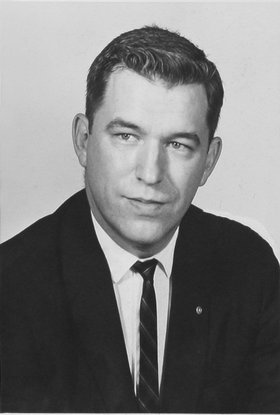 William Huntress, Jr.
unknown - October 14, 2012
Mr. William Chamberlain Huntress, Jr., (Bill), formerly of Melrose, MA., and Rio Verde, AZ, died on Sunday, Oct. 14, 2012 at the age of 81. Bill has been in the advanced stages of Alzheimer's for several years and spent his last years in an assisted living facility in Danvers, MA, with his wife Betty. The family is grateful to Putnam Farms for helping their parents stay together until the end. Bill graduated from the Vermont Academy and Boston University in 1953. He was a member of the SAE Fraternity. He pinned his sweetheart Betty and they were married almost 60 years. Bill joined the Army Reserve in 1953 and served as a corporal until 1960. Mr. Huntress was the founder and owner of the Huntress Insurance Company of Melrose from 1958 until 1989 when he passed the business on to his son Bill Huntress, III. He served on the board of governors at the Bellevue Country Club and the Salem Country Club, was the past president of the Melrose Rotary Club and the first ever recipient of the Paul Harris Award for exceptional service to his community; an award he would receive twice during his lifetime. He served the City of Melrose on the personnel board and retired from that board to serve on the Melrose School Committee. He was a member of the First Congregational Church of Melrose for 72 years. A trustee for the Melrose Wakefield Hospital, a member of the National Agents Advisors Counsel for 50 years and a Little League and Youth Hockey coach in Melrose, he was a born leader with a dynamic personality and a great sense of humor. Bill had a lifelong love of golf, which he shared with his children. He dedicated his life to supporting his community and taught his children the importance of volunteering and giving back. He went to the Masters as a reward for excellence in his industry (insurance). He donated to countless organizations and his company slogan was "Our Aim Is Service."
He is survived by his wife Betty, his three children, Bev (Randy) Russo of Connecticut, Bill Huntress III of Melrose, MA, and his youngest daughter Barbara Huntress Tresness (Barb) and her husband Greg of Manlius. He was Granddad to Colby, Tysen and Graham Tresness. Bill had three children, seven grandchildren and six great-grandchildren. Funeral services will be held in Melrose Mass. To sign Bill's guest book please visit gatelyfuneralhome.com.
In lieu of flowers memorial contributions may be made to the local chapter of the Alzheimer's Association, CNY chapter 441 West Kirkpatrick Street, Syracuse NY 13204.