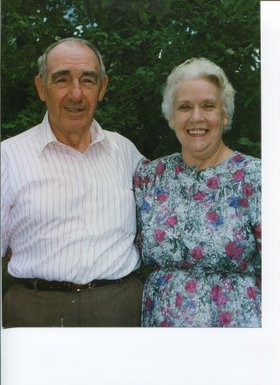 Eleanor C. Paventy
unknown - October 11, 2012
Eleanor C. Paventy, 89, of North Syracuse, passed away Thursday, Oct. 11, 2012, at Loretto. She was born in Bimidgi, Minn., where she was raised and educated, the eldest daughter of the late Carl and Ester (Josefson) Aldal. Mrs. Paventy had been a resident of the Syracuse area for the past 67 years. Eleanor's focus was her family. She was a hardworking and strong willed person with a sense of humor. A dedicated wife, mother and grandmother, she will be sadly missed by all that new her. Eleanor was a devout member of the Morman faith. Mrs. Paventy was a member of the Church of Jesus Christ of Latter Day Saints in Liverpool, where she was involved in many of the church's charities. She is predeceased by two sisters: Alice Clay and Doris Johnson, and a daughter-in-law, Mary Paventy.
Surviving to cherish her memory is her husband of 67 years, Joseph N. Paventy of Syracuse, two sons, Louis C. (Gwen) Paventy of Liverpool, Gregory Paventy of Utah, two daughters, Beverly J. Addison of Chittenango and Charise (Robert) Kent of Albany, many grandchildren and great-grandchildren, three sisters, Gladys Sudtch, Laverne Bell, and Barbara Pierce all of MN. Also surviving are several nieces and nephews.
Calling hour: from 11:00 to noon Saturday, Oct. 20 at the Maurer Funeral Home 300 Second St., Liverpool, with funeral services following at noon. Private burial will take place in Woodlawn Cemetery. In lieu of flowers, contributions in Eleanor's memory may be made to the American Cancer Society, 6725 Lyons Street, PO Box 7, East Syracuse, NY 13057.