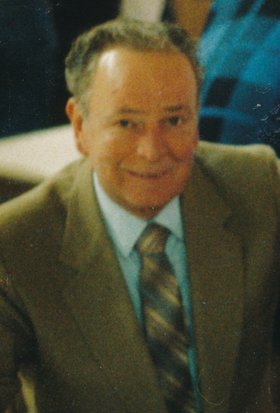 Paul O. Nagle, Jr.
March 22, 1929 - October 12, 2012
Paul O. Nagle, Jr., passed away peacefully Oct. 12, 2012, at St. Joseph's Hospital surrounded by his loving family. He was born in Geneva to Paul and Helen Nagle on March 22, 1929. A 1947 graduate of DeSales High School in Geneva where he was a three sport athlete, Paul served in the U.S. Army Military Police in Germany during the Korean War. He worked over 40 years in the food service industry in sales and operations, retiring from Schisa Brothers, Syracuse as GM in 1991.
Nagle, an avid golfer, began playing at age 57 and had three holes in one. He also played semi-pro basketball while in the army. A member of the Knights of Columbus and the American Legion, he was a communicant of St. Mary's Church. He loved gathering with family and friends sharing a good laugh.
He is survived by his loving wife of 59 years Margaret A. (O'Byrne) Nagle; sons Paul III, wife Kathleen, daughters Kathryn and Andrea; Daniel, wife Mary, daughters Alison and Erin; Timothy, wife Patricia, sons Peter and Brian, daughters Meghan and Catherine; her daughters MaryBeth, husband Mark Williams, son Lewis (his wife Jenna and daughter Lexis) daughters Molly and Bridget; Kathleen, husband Michael Nichols, son Joe, daughters Michelle and Colleen (husband Karl); Peggy, husband Terry Jones and Nancy, husband Ray Reilly, son Michael and daughter Maggie. Surviving sister Martha (Francis) Mack. He was predeceased by his brother William, sisters Margaret Sullivan and Joan Monahan.
Calling hours: 4-7 p.m. Monday, Oct. 15, at Falardeau Funeral Home, 93 Downer St, Baldwinsville. Mass of Christian burial: 9:30 a.m. Tuesday, Oct. 16, at St. Mary's Church, 47 Syracuse St. Baldwinsville. In lieu of flowers, contributions may be made to St. Mary's Academy, 49 Syracuse St., Baldwinsville, NY 13027.
Many thanks to the staff at St. Joseph's Hospital floor 1-5 for their kindness, dedication and professionalism.