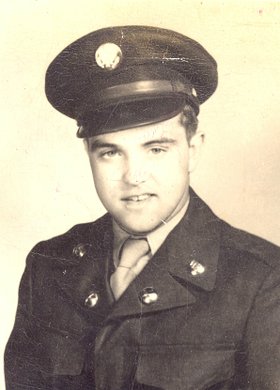 Richard W. Williams
unknown - October 7, 2012
Richard W. Williams, 78, of Marietta, died Sunday, Oct. 7, 2012. He was born March 21, 1934 to the late Richard and Marion Williams. Dick proudly served in the US Army during the Korean Conflict and was a member of the Marcellus American Legion Ralph Share Post #297. He retired from Centro after many years of service.
Dick had a wonderful sense of humor and enjoyed SU Basketball. In younger years he sang tenor in a Barbershop Quartet.
He was predeceased by his son Daniel Williams in 1983 and his sister Betty Doolen.
Surviving are his wife Nancy (They would have celebrated 60 years of marriage this November 3rd.); his children Joan (Leonard) Longo, Richard (Grace Maurillo) Williams, Marion (Brad) Curtis, Susan (Dennis) Sauve, Laurence (Jessica) Williams and Michael (Chris) Williams; 14 grandchildren; 8 great-grandchildren; a brother Robert (Pam) Williams; a sister Beverly Doolen and many wonderful nieces and nephews.
Calling hours were 4 to 7 p.m. Wednesday, Oct. 10, at Ryan Funeral Home, 44 E. Main Street, Marcellus, with an American Legion Service held at 7pm. The funeral service was 10 a.m. Thursday, Oct. 11, at the funeral home and the burial followed in Pine Ridge Cemetery, Navarino. In lieu of flowers, contributions may be made to MAVES, PO Box 203, Marcellus, NY 13108.