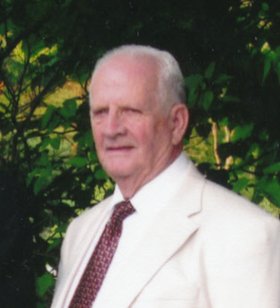 Charles H. Orr, Sr.
unknown - October 9, 2012
Charles H. Orr, Sr., 84, of Baldwinsville passed away at home Tuesday, Oct. 9, 2012, with his loving family by his side. Charles was a U.S. Navy veteran and was a retired Teamster of Local 317. He was an avid bowler and golfer. Charles was predeceased by his mother, Genevieve Irland in 1970 and his father, Harley Orr in 1977.
Survivors: his wife of 62 years, Jean Dinant Orr of Baldwinsville; his son, Charles (Lynn) Orr Jr. of Warners; three daughters, Cynthia (James) Losurdo and Brenda (David) Wattam of Baldwinsville and Karen (David) Demperio of Syracuse; nine grandchildren and five great-grandchildren. The family wishes to thank Dr. James F. Lawless and staff for the excellent care given to Charles.
Calling hours: 4-7 p.m. Thursday, Oct. 11, at Falardeau Funeral Home, 93 Downer St., Baldwinsville. Memorial services: 11 a.m. Friday, Oct. 12, at the funeral home. Contributions: In lieu of flowers, contributions to Hospice Of CNY, 990 7th North Street, Liverpool, NY 13088-6148.