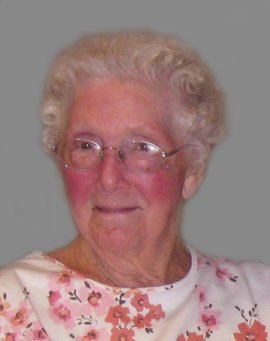 Doris Bushnell
unknown - October 5, 2012
Doris Evelyn Duprey Bushnell, 87, of Baldwinsville, fulfilled her wish to depart from Syracuse Home, on Friday, Oct. 5, 2012, to join her husband at the Great Golf Course in the Sky. Doris was born in Syracuse on Wednesday, Dec. 3, 1924, and was raised in Amboy. She was one of six children of James and Thelma Sims Duprey.
After graduating from Solvay High School, Doris married Clarence "Kan" Bushnell, on Aug. 6, 1945. During their 66 years together, she enjoyed golf, bridge, winter months in Myrtle Beach and doting on her children and grandchildren.
Doris was a crafty and clever mom who also enjoyed sewing, needlework, cooking and baking. She was a proud, caring and determined lady, as well as a devoted wife, mother and grandmother.
Kan died earlier this year on April 29. Doris leaves to cherish her memory: daughter and son-in-law, Dorinda and Ted Raby of Baldwinsville; sons and daughters-in-law, Dan and Naoko of Kanazawa, Japan and Dave and Patty of Onondaga Hill; grandchildren, Christopher Raby and Jason, Jillian, David and Ian Bushnell, by whom Doris was affectionately called "Boppo," and her brother, Donald Duprey of Marietta.
The family wishes to thank the Unit 1 staff at McHarrie Place for their steadfast care, and Hospice of Central New York, whose brief involvement helped bring peace to Doris' survivors.
There were no calling hours.
A celebration of Doris' life took place at 11 a.m. on Saturday, Oct. 13 at McHarrie Place, 7740 Meigs Road, Baldwinsville, with Rev. Stuart Hayes officiating. Her ashes were placed alongside those of her beloved husband in the Onondaga County Veterans Memorial Cemetery. Arrangements were under the direction of Buranich Funeral Home, Camillus. Please consider a contribution to the Alzheimer's Association, 441 West Kirkpatrick Street, Syracuse, NY 13204 or Hospice of Central New York, 990 Seventh North Street, Liverpool, NY 13088 in lieu of flowers. Mom, we love you, and we will miss you so much. Please share condolences at buranichfuneralhome.com.