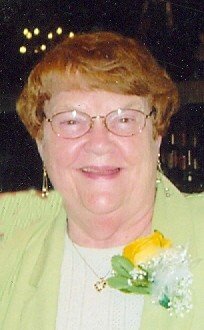 Julia C. Conway
unknown - October 3, 2012
Julia "Judy" C. Conway, 76, of Fabius passed away Wednesday, Oct. 3, 2012, at Crouse Hospital from her courageous battle with cancer. Judy was born June 27, 1936, in Syracuse. She was the daughter of Velma and Guy Clancy. She graduated from Fabius High School and went on to graduate from CCBI. She then worked for the phone company for five years and then the post office for 26 years, in which she retired from as postmaster at Apulia Station. Judy directed the Fabius Community plays for six years and she, along with Jack Daley started the Pompey outreach program. She also taught religion classes for the Fabius Pompey Catholic Church. Judy was also involved in the Fabius Historical Society and loved to do family genealogy and scrap booking. Judy was loved by many and was a wonderful "Bride", Mom, and friend to many.
Judy was predeceased by her father, Guy Clancy. She is survived by her loving husband of 53 years James P. Conway, her mother Velma Clancy, her children Patti (Dr. Phil) Ondocin, Michael (Joani) of Maui, David (Amy Hatto), and Danielle (James Dorr) Conway; grandchildren, Kaeleigh Beebe, Ryan Ondocin, Colleen Conway and Taralynn Conway; her brother Patrick (Margy) Clancy and several nieces and nephews.
Mass of Christian burial: 10 a.m. Monday, Oct. 8 at Immaculate Conception Church, 7386 Academy St., Pompey, NY 13138. Calling hours: 4 – 7 p.m. Sunday, Oct. 7, at the. In lieu of flowers, donations may be made to the Fabius Historical Society, PO Box 27 Fabius, NY 13063 or the Fabius Fire Department, PO Box 27, Fabius, NY 13063. Please visit taitfuneralhome.com to leave the family online condolences.