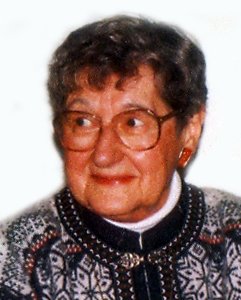 Eva C. Hess
unknown - October 1, 2012
Eva C. Hess, 96, of Camillus, passed away Monday, Oct. 1, 2012 at University Hospital. Born in Utica on Thursday, Feb. 10, 1916, she was the daughter of Michael Kulik and Mary Moros Kulik. Eva lived in Camillus for most of her life. She was 1932 valedictorian of Camillus High School.
For 30 years Eva was co-owner of the Camillus Grill. She was a communicant of St. Joseph's Church and volunteered with the food pantry and funeral luncheon guild. She was a member of the Camillus Country Club and Orchard Vali Country Club. A Yankees fan, she also enjoyed baking and camping.
Her husband, Harvey S Hess, died on March 12, 1996.
Surviving are her daughter and son-in-law, Mary Lou and David MacKaig of Elbridge; son and daughter-in-law, Andrew and Gabrielle Lewis Hess of Rockville, Maryland; grandchildren, Jennifer (Matthew) Schrader of Syracuse and David (Kelli) MacKaig of Vacaville, Calif.; great-grandchildren, Jacob and Zachary Schrader of Syracuse and Aiden and Addison MacKaig of Vacaville, Calif.; sister, Jane Fenn of Camillus; and brother-in-law, Robert Mersfelder of Camillus.
Rev. Louis P. Sogliuzzo, SJ celebrated a funeral Mass at 10:30 a.m. Thursday, Oct. 4 in St. Joseph's Church. Arrangements were by the Buranich Funeral Home, Camillus. Private burial was in Maplewood Cemetery, Camillus. In lieu of flowers, contributions may be made to one's favorite charity. Please share condolences at buranichfuneralhome.com.