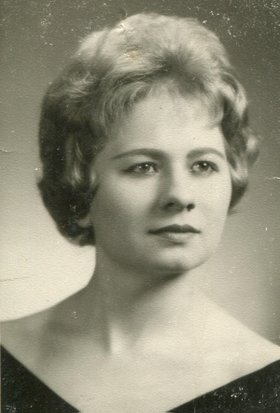 Gertrud P. Coulter
unknown - October 3, 2012
Gertrud P. "Trudie" Coulter, 71, of Memphis, N.Y., passed away peacefully Oct. 3, 2012 at Crouse Hospital after a long and courageous battle with breast cancer. Trudie was diagnosed with breast cancer in 1998 and enjoyed a wonderful life as a survivor. Trudie was born in the little town of Litomerice in the Czech Republic on Nov. 15, 1940 to John and Marie Peukert.
Trudie graduated from Liverpool High School and continued her education at SUNY Albany and Syracuse University. Trudie retired from the Baldwinsville School District after teaching German at C.W. Baker High School for 38 years. Trudie thoroughly enjoyed her teaching career and she had a special talent for bringing out the best in her students. She thought very highly of her fellow teachers and the quality of education offered by the Baldwinsville Schools.
Trudie and her husband Ed were married on June 22, 1962 in Hendricks Chapel on the campus of Syracuse University. Ed and Trudie recently celebrated their 50th wedding anniversary.
Trudie had several interests that included riding her horse Mariner on a daily basis and walking Toby, a beautiful golden retriever, around the farm property. Trudie also enjoyed going on mini-vacations with her husband Ed up to the St. Lawrence River and visiting Saratoga and Ft. Lauderdale for several years. Summers were enjoyed boating on Skaneateles Lake. Trudie loved their country home, Coultswood Farm, near Plainville, where the couple raised cattle, horses and dogs.
Trudie was predeceased by her father, John Peukert.
Trudie is survived by her loving husband of 50 years, Ed; mother, Marie Peukert of Baldwinsville, Karen Brion and Emilie Braun of Geneseo, and a brother-in-law, James Coulter of Liverpool. Trudie's relatives in Germany include Irma Liermann, Siegfried and Horst Peukert.
The family would like to thank a very special nursing staff at Crouse Hospital for the loving care they gave Trudie. Trudie's physicians and supporting staffs deserve a special thanks for the care given Trudie over the years.
Maurer Funeral Home in Liverpool is in charge of the arrangements. It was Trudie's wishes to have a private service and no calling hours. Interment will take place at Greenlawn Cemetery in Warners at the convenience of the family.
In lieu of flowers, contributions in Trudie's name may be made to the Baldwinsville Schools Scholarship Fund, Baldwinsville, NY, American Cancer Society or the SPCA of CNY.