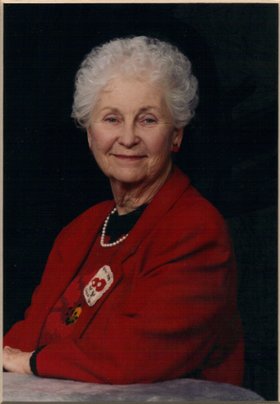 Flora Briggs
unknown - September 30, 2012
Flora Catherine Mullin Briggs, 90, died early Sunday morning, Sept. 30, 2012, at the Menorah Park Nursing Home after a short illness. She was born in Brooklyn, N.Y., on July 29, 1922, to James Walter Mullin and Flora May Taylor. Her mother had died when she was only four years old, and she was raised by her maternal grandparents, Charles and Esther "Kate" Taylor in Cortland. She graduated from Cortland High School in 1939 at the age of 15, and was awarded a bachelors degree in French and Latin from Cornell University in 1942.
She married the late Fred C. Briggs and spent many years in Homer, N.Y. Later she moved to Syracuse and, after retirement, to the Springmoor Adult Community in Liverpool.
After raising her three children, she attended Syracuse University, where she attained a master's degree in library science and a CAS in instructional technology. She worked as a school librarian in the North Syracuse Schools until her retirement.
She is survived by her three children, Mark Briggs of Jamesville, Barbara Jean Briggs of Assonet, MA, and her partner Robert Danielsen, and William Briggs of Methuen, MA, and his partner Keith Perron. She is also survived by her only grandson, Chance Briggs, who lives in Bamako, Mali with his wife, Renata, and their son, Maxwell, and by her beloved brother-in-law, David Eddy, Sr., and her nephews David Eddy, Jr. and Charles Eddy. She had lost her sister, Marian Eddy in July.
Flora loved travel, visiting far distant parts of the world including Europe, China, Thailand, Senegal and Mozambique. In 1971-72, she spent a sabbatical year as a librarian and teacher in Australia. Her volunteer activities included serving on the planning commission for Homer, the boards of directors of her church, May Memorial Unitarian Society, and Condo Board of Springmoor. After retirement, she continued to tutor new immigrants in English.
Always an artist, she was a competitive flower arranger, and a nationally certified flower show judge. She frequently judged at state, national and international flower shows. She was a member of several garden clubs and helped many young people learn about gardening and flower arranging through the Girl Scouts.
Calling hours: from 2 to 4 p.m. Wednesday, Oct. 3, with a funeral service following at 4 p.m. at the Maurer Funeral Home, 300 Second St., Liverpool. In lieu of flowers donations can be made to the Cornell Plantations, One Plantation Road, Ithaca, NY 14850.