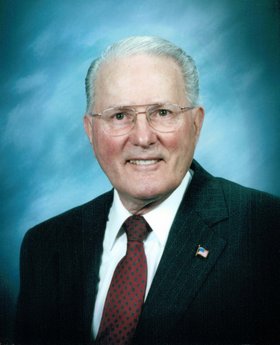 Raymond A. Peschka
unknown - November 22, 2012
Raymond A. Peschka, 84, of Cicero, went home to be with the Lord on Thanksgiving morning, Nov. 22, 2012. He passed away peacefully at home.
He was employed by Best Ice Cream in 1946. Best was later purchased by Borden Company, where he worked for 32 years as production manager. He retired in 1990, after 12 years with Bristol Myers Squibb. In retirement, he found great pleasure driving cars for the Burdick Dealerships and working at the Knickerbocker Farm Stand, where he is still affectionately remembered.
Ray was a member of North Syracuse Baptist Church where he ushered and served in the pew ministry.
He was predeceased by his granddaughter, Marianna Peschka, on May 6, 1999.
Surviving are his wife of 64 years, the former Barbara J. Burnell; his son, Kurt (Dianne) Peschka of Baldwinsville; his daughters Jeannie Gmyr of Westvale, Barbara (Raymond "Skip") Knickerbocker of Liverpool and Karen (Kevin) McDermott of North Tonawanda; his sisters, Bobbi Thornhill of Texas and Charlotte Johnson of DeWitt; eight grandchildren, Laura Lea, Michael (Jessica), Sean, Sarina and Julia Peschka, Sharon Rose and Jeff (Kristyn) Knickerbocker and Jude McDermott. He was looking forward to welcoming his first great grandchild, Gwendolyn Knickerbocker, in December.
Private services and calling hours will be at Fergerson Funeral Home, with burial in North Syracuse Cemetery. Donations may be made to the Piano Fund of North Syracuse Baptist Church, 420 South Main Street, North Syracuse, NY 13212. Memorial messages may be left at FergersonFuneralHome.com.