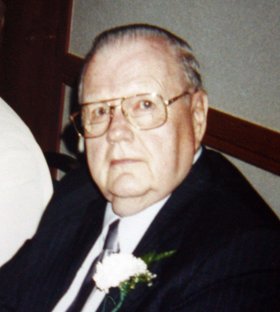 Kenneth B. Bailey, Sr.
unknown - November 25, 2012
Kenneth B. Bailey, Sr., 86, of Elkhart, IN, passed away Sunday, Nov. 25, 2012, morning at the Golden Living Center in Elkhart after a three year battle with vascular dementia. Prior to moving to Elkhart in 2010, Mr. Bailey resided on Collamer Road, East Syracuse, for 35 years.
A Herkimer native, he and his family moved to Syracuse in 1938. He graduated in 1944 from Eastwood High School, enlisted in the U.S. Navy and served in the Pacific. After attending Syracuse University, he attended business college, studied court shorthand, and become a court reporter. He was employed by the NYS court system over 20 years, retiring in 1992.
After retiring, Mr. Bailey was a Civil Service Employees Association member, officer and president for 10 years. He was a member of B.P.O.E. Elks Lodge 31, Syracuse, Arthur Butler American Legion Post 359, East Syracuse, Simon Parisi VFW Post 9596 and attended the Basilica of the Sacred Heart of Jesus.
Surviving are his wife of 20 years, the former Patricia J. Sutkus; four sons, Peter L. (Rose) Bailey of Cicero, Patrick (Sue) Bailey Phoenix, AZ, Kenneth B. (Joanna) Bailey, Jr. of Liverpool and Todd T. Bailey of E. Syracuse; brother-in-law and sister-in-law, Bob and Patty Sutkus of Elkhart, IN and several grandchildren and great grandchildren.
Services: 11 a.m. Wednesday, Nov. 28, at at Fergerson Funeral Home, 215 South Main St., North Syracuse preceded by visitation at 10 a.m. and followed by entombment in Woodlawn Cemetery's Sunset Chapel Mausoleum. Donations may be made to the Alzheimer's Association of CNY, 441 W. Kirkpatrick St., Syracuse, NY 13204-1361. Memorial messages may be left at FergersonFuneralHome.com.