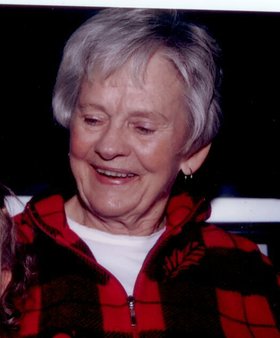 Suzanne Dickson
unknown - November 28, 2012
Suzanne (White) Dickson, 84, of Camillus, passed away Nov. 28, 2012, after a brief illness at Community Hospital. She was a lifetime resident of the Syracuse and Camillus area, and was a graduate of Most Holy Rosary. Suzanne was an avid golfer, gardener, SU fan and a true Irish woman. She was a communicant of Holy Family Church and she enjoyed an active life with many friends and family.
Suzanne was predeceased by her husband of 49 years J. Robert Dickson in 1997. Four brothers, Gary, Donald, Lawrence and Gordon White.
Surviving are six daughters, Beth (Steve) Snyder of Onondaga Hill, Connie (Stephan) Weingarten of Minnesota, Sally (Mike) Luton of Onondaga Hill, Kelly(James) Edlund of Camillus, Laura (Steve) Howard and Martha (Jim) Dickson-McMahon of Camillus. Five grandchildren, Sean (Stacey) Snyder, Kristen Snyder, Megan Luton, Aidan Weingarten. Cian McMahon one great granddaughter Samantha Snyder, and many nieces and nephews.
Mass of Christian burial: 9 a.m. Saturday, Dec. 1, at Holy Family Church with a Burial in Onondaga County Veteran's Cemetery. Calling hours: 4 to 7 p.m. at Whelan Bros. & Hulchanski Funeral Home, 5854 Belle Isle Road, Syracuse, NY 13209. Contributions may be made in Suzanne's name to Hospice Foundation of CNY, 990 Seventh North Street, NY 13088.