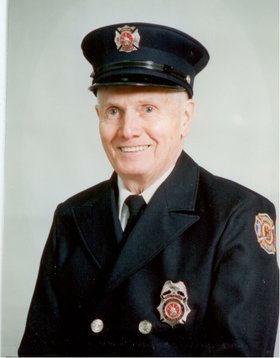 Thomas J. Maher
unknown - November 16, 2012
Thomas J. Maher, 84, of Fairmount passed away peacefully Friday, Nov. 16, 2012, at St. Joseph's Hospital after a short illness. Born in Larksville, PA in 1928, he was the second of eight children born to Thomas and Josephine (Hardiman) Maher. He enlisted in the Navy at 17 in 1944 and also served during the Korean Conflict. After serving in the Navy he settled in Syracuse where he met and married his beloved wife Margaret "Peg" O'Dea in 1956. Together they raised five children. He retired from New Process Gear after 31 years of service in 1993. He was a communicant of Holy Family Church, a member of the Nocturnal Adoration Society, Holy Name Society and a dedicated member of the Fairmount Fire Department.
Tom was a selfless family man, gave of himself to many and asked for nothing in return. He had a love of God, Family and Country.
He was predeceased by his son Dr. Thomas J., a grandson Quinn Francis and four brothers; James, William, John and Richard.
Survived by his wife of 56 years Margaret, their children, Michael (Margaret) , Kevin (Connie), Mary Beth (Todd) Parry, Sheila (Rich) Ludington. He was also blessed with twenty grandchildren; Thomas and John Maher; Meghan, Michael, Patrick, Keenan, Colleen, Seamus, Daniel, Aiden Maher; Shannon and Madison Maher; Bridget, Kevin and Reagan Parry; Matthew, Neev, Daniel, Mia, and Jack Thomas Ludington. Also, three sisters; Margaret Edward Novick, Josephine "Babe" Stevens, and Getrude (Andrew) Pavlick and sister in law Colette O'Dea, and his best pal Dave Zanoni, many nieces and nephews.
He was a man that said little, but said it well. His quick smile and gentle presence will be greatly missed.
Mass of Christian Burial 10 a.m. Tuesday, Nov. 20 in Holy Family Church, with Burial in Onondaga County Veterans Cemetery with Military Honors. Calling hours were at Whelan Bros. & Hulchanski Funeral Home. Contributions may be made in Tom's name to Holy Family School or the Fairmount Fire Department.