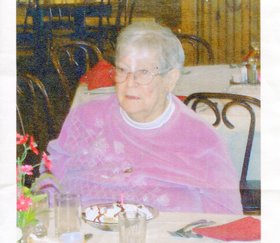 Marion Chester
unknown - November 15, 2012
Marion Smith Chester, 91 of Liverpool, passed away on Thursday, Nov. 15, 2012, at Crouse Hospital. She was a Life resident of the Liverpool area and retired from Ormond Shop at Northern Lights.
Marion was a member of the Liverpool First United Methodist Church, a member of HAGL (Historical of Greater Liverpool), a member of the Liverpool Historical Society, member of the May Flower (Vermont Society), member of the General Asa Danforth, Syracuse Colony New England Women, Daughters of American Colonists.
Surviving are her husband Reginald F. Chester, son Reginald F. Chester II of Lisbon, NY, daughter Marny Jean Peterson of Greenville, TX, sister Arlene Smith Simms of Liverpool, four grandchildren, eleven great-grandchildren and several nieces and nephews.
Funeral services: 1 p.m. Monday, Nov. 26, at the Maurer Funeral Home, 300 Second St., Liverpool, with burial to follow in North Syracuse Cemetery. There are no calling hours. Contributions, in lieu of flowers, may be made to Kurn Hattin Homes, , Box 127, Westminster, VT, 05158 or to Ronald MacDonald House, 1027 E. Genesee St., Syracuse, NY 13210, or to Hospice of CNY, 990 Seventh North St. Liverpool, NY 13088.