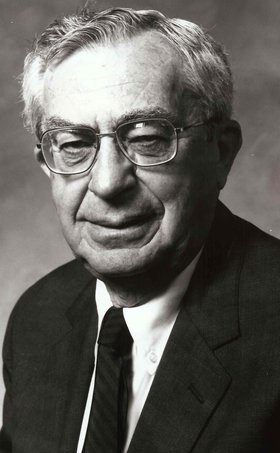 Irving Schwartz
unknown - November 8, 2012
Irving "Wimpy" Schwartz died on Nov. 8, 2012 in Charlotte, NC.
He was born in Syracuse, New York on Dec. 14, 1919 and graduated from Nottingham High School and the Syracuse University School of Management. Following college, he served as a Lieutenant in the United States Marine Corps during WWII. He began his career in the insurance industry in 1946 with Shimberg and Gerber and served as the Managing Vice President of the Syracuse office of Alexander & Alexander between 1976 and 1981. Following his retirement from Alexander & Alexander, he served as the director of development at Crouse Irving Memorial Hospital and as president of Onondaga Venture Capital Fund, LLC.
His community service included serving as the president of the University Club of Syracuse, chairman of the board of Planned Parenthood of the Rochester/Syracuse Region, president of the Insurance Agents Association of Onondaga County and as a member of the board of directors of the Everson Museum of Art and Crouse Irving Memorial Hospital.
He was predeceased by his wife, the former Sheila Schiff, and is survived by his daughters Sally Lang (David) of Ontario, Canada and Suellen Carman (Peter) of Wilson, Wyoming; his sister Natalie Gliedman of New York, New York; his brother Paul Stewart of Charlotte, North Carolina; his sister Ruth Slesinger of Charlotte, North Carolina; and his cousin Rosalind Gingold of Syracuse, New York; as well as five grandchildren and three great-grandchildren.
Prior to moving to Charlotte in 2005, Irv lived in Cazenovia and Skaneateles. He will be remembered as someone who generously gave back to his community and always placed the needs of others before his own.
A private memorial will be held at a later date. In lieu of flowers, contributions may be made to Planned Parenthood of the Rochester/Syracuse Region, 1120 East Genesee Street, Syracuse, New York 13210 or Hospice of Central New York, 990 Seventh North Street, Liverpool, New York 13088.