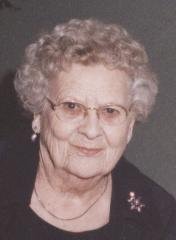 Freda S. Davis
unknown - November 19, 2012
Freda S. Davis 92 of Elbridge died Monday, Nov. 19, 2012. Born in South Onondaga, Freda lived in Camillus before moving to Elbridge in 1990. She was the widow of Edward W. Davis who died in 1989. She was also predeceased by her son Ronald W. Davis in 2004 and a grandson E. Donald Davis in 2010.
Freda was a member of the Elbridge Community Church, the Camillus Elks Auxiliary and the Morning Star Chapter #289 OES.
Surviving are a son Edward R. (Barbara) Davis of Camillus, a daughter Betty J. (Juergen) Knauss of Elbridge, four grandchildren and eight great-grandchildren.
Services: 11 a.m. Saturday, Nov. 24, in the Bush Funeral Home, Elbridge, with the Rev. James Stone officiating. Burial will be in Maple Grove Cemetery. Calling hours: 4-7 p.m. Friday, Nov. 23, at the funeral home 120 E. Main St. (Route 5) Elbridge. Eastern Star services: 7 p.m. Friday, Nov. 23, at the funeral home. Contributions in Freda's memory may be made to the ECC " Save the White Church" P.O. Box 118 Elbridge 13060.