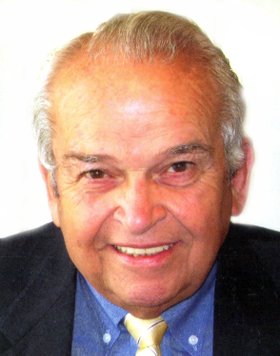 Charles R. Welch
unknown - November 2, 2012
Charles R. Welch, of Camillus, is asleep. He passed away Friday, Nov. 2, 2012, at Francis House. For those who knew him, this is not a revelation. But now his slumber is eternal, having succumbed after a brief illness, surrounded by his loving family.
Charlie lived his 84 years to the fullest. He was born in Syracuse on Thursday, Aug. 23, 1928, to Mary McGuirk Welch and Richard E. Welch. After serving in the Army, he returned from Korea and graduated from Le Moyne College's second graduating class. He attended Albany Law School, and while living in Albany, met his wife, Mary Jeanne Brousseau, who predeceased him after 46 years of marriage. They settled in Camillus where Charlie was a founding partner in the law firm of Welch, Welch & Carr. He served as Camillus town justice for 16 years, and was later chairman of the Onondaga County Democratic Committee. He was employed by the New York State Workers' Compensation Board as an administrative law judge, retiring in 2006. Charlie was a member of the Camillus Elks and Camillus Democrats. He was a member of the New York State Bar Association since 1957 and New York State Magistrates Association. He was also a member of the VFW and American Legion and communicant of St. Joseph's Church.
Charlie was predeceased by his sister, Maureen Grogan Welch, in 1998 and grandchildren, David C. Welch and Kelly C. Welch.
Surviving are his loving companion, Priscila Pultz; brothers and sister-in-law, Sean Welch of Connecticut, and Richard and Janet Welch Jr. of Arlington, Texas; and sister, Sister Madeline Welch of the Bronx. He also leaves behind his seven children and spouses: Theresa and John Deragon of Camillus, Charles R. "Bob" and Debbie Welch of North Syracuse, Michael and Sheila Welch of Marcellus, John and Marie Welch of Seattle, Washington, Thomas "Tim" Welch of Fayetteville, Katy and Kelly McAnulty of Camillus and Margaret "Meg" Welch of Camillus; 19 grandchildren; one great grandchild; and many nieces and nephews.
We will miss that booming laugh that startled small children, his wisdom and his wit.
Relatives and friends paid their respects and celebrated the life of a great man from 4 to 7 p.m. Wednesday, Nov. 7 at the Buranich Funeral Home, 5431 W. Genesee St., Camillus.
A funeral mass was celebrated at 10:30 a.m. Thursday, Nov. 8 at St. Joseph's Church with Rev. Louis P. Sogliuzzo, SJ officiating. Charlie was laid to rest at St. Mary's Cemetery, DeWitt. Please recognize the good work and dedicated people involved at Hospice of CNY and Francis House. His family thanks them. In lieu of flowers, contributions may be made to Francis House, 108 Michaels Ave., Syracuse, NY 13208. Please share condolences at buranichfuneralhome.com.