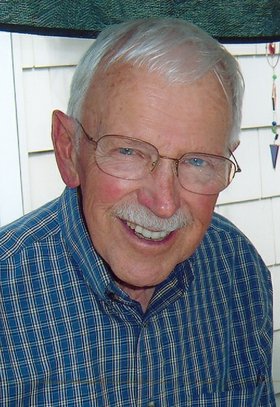 Harry F. Klodowski, Sr.
unknown - November 11, 2012
Harry F. Klodowski, Sr., 84, of East Syracuse, passed away peacefully Nov. 11, 2012, at home with his family. Born in Pittsburgh, Harry graduated from Central Catholic High School, completed two years of service with the Marines during the Korean War stationed at Cherry Point and graduated from the University of Pittsburgh with a BS degree in Chemistry. Harry worked as a research-consulting chemist for Carrier Corporation for over 25 years, retiring in 1991. He was a communicant of St. Matthew's Church in East Syracuse.
Harry was an avid sailor, enjoying Ontario and Oneida Lake sails. He was also a tennis player, having won the Senior Tennis Games four years in a row. He enjoyed golfing and skiing and was on the Song Mountain Ski Patrol for 20 years. He also taught Chemistry at OCC and sailing courses through the Power Squadron.
He is survived by his wife, Nancy Coll Klodowski; two daughters, Janice Klodowski (Mark Balduzzi and JoAnn Schmidt; a son, Harry F. Klodowski (Amy); brother, Stanley (Dolly) Klodowski; four grandchildren and four great-grandchildren. He was predeceased by his brothers, Paul in 2011, Donald in 1977 and Thomas in 1997.
Services: 10 a.m. Friday, Nov. 16 at Eaton-Tubbs Fayetteville Chapel. Burial is at St. Mary's Cemetery, DeWitt. Calling hours: 4 to 7 p.m. Thursday, Nov. 15 at the funeral home, 7191 E. Genesee St., Fayetteville. For directions, florists, or a guestbook, please visit scheppfamily.com. Contributions: in lieu of flowers may be made to Hospice of CNY, 990 Seventh North St., Liverpool, NY 13088.