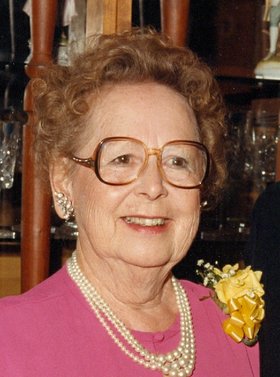 Edith T. Martin
unknown - November 11, 2012
Edith T. Martin passed away on Sunday, Nov. 11, 2012, at The Nottingham, at the age of 97. Edith was the daughter of James Edgar Towner and Edna B (Edwards) Towner. Edith grew up in Syracuse and married Hugh M. Martin from Cazenovia. Edith and Hugh were married for over 68 years and resided for many years in Manlius, where they were active members of the community. Hugh was the credit manager for Addis Co., and Edith was a buyer for Wells & Coverly before retirement. Hugh Martin predeceased Edith Martin in July of 2005.
Edith Martin never missed an opportunity to laugh and to see the bright side of any occasion. She will be missed by all who crossed her path, whether as a family member, neighbor or friend. Edith was especially blessed to have had wonderful friends at The Nottingham, and the staff at The Nottingham provided loving care over the years.
Edith is survived by her brother, Warren J. Towner of Rochester and several nieces and nephews.
Graveside service: 1 p.m. Thursday, Nov. 15 at St. Mary's Cemetery in DeWitt. Please use the Randall Road entrance. There will also be a memorial service at a later date. For guestbook, please visit scheppfamily.com. In lieu of flowers, please consider sending donations to The Loretto Foundation, 1301 Nottingham Rd., Jamesville, NY 13078. Please indicate "Edith T. Martin and The Nottingham" on the memo line. Arrangements by Eaton-Tubbs Fayetteville Chapel of Schepp Family Funeral Homes.