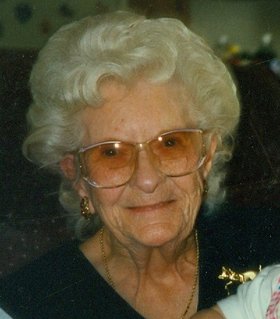 Dorothy E. Fish
unknown - November 2, 2012
Dorothy E. Fish, 100, passed away on Friday, Nov. 2, 2012, at Sunnyside Care Center. She previously resided at Maple Downs in Fayetteville and Wynwood in Manlius. She was born in Fayetteville and graduated from Manlius High School. She was a member of DeWitt Community Church and was a life member of the Cortland Moose Club.
Dorothy loved to dance and spend time with her family. She also enjoyed traveling to Florida in the winters for over 50 years.
She was predeceased by her husbands Ernest Fish, Alfred Fellows, Stanley Rowell and Lee Cross; and by two sons, Kendall Fellows and Benjamin Rowell.
Dorothy is survived by her three grandchildren, Kenneth (Tracy) Rowell of E. Syracuse, Edward (Beth) Rowell of Liverpool, and Michelle Rowell of Solvay; a step daughter, Beverly (Francis) Fitzpatrick of Otisco and a step son Ronald (Pauline) Fish of Tennesee; several step grandchildren; great grandchildren; and nieces and nephews.
Services: 2 p.m. Monday, Nov. 5 at Eaton-Tubbs Fayetteville Chapel. Burial followed in White Chapel Memory Gardens, DeWitt. Calling hours: 1 to 2 p.m. Monday at the funeral home, 7191 E. Genesee St., Fayetteville. For directions, florists, or a guestbook, please visit scheppfamily.com. Contributions may be made in Dorothy's memory to the Red Cross or the American Cancer Society.