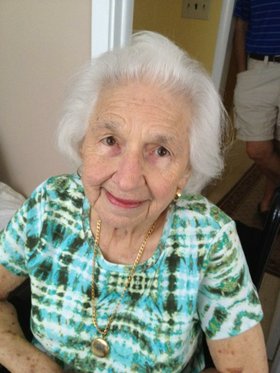 Salome Purple
unknown - November 2, 2012
Salome Violet (Gingrich) Purple passed Nov. 2, 2012, from the loving arms of her family into the long awaited arms of her God, and her beloved husband, Jack Friday. She was born in Philadelphia, Pennsylvania on July 20, 1919 and lived life to it's fullest every step of the way. The daughter of Aaron and Violet (Showers) Gingrich, she was pre-deceased by her siblings, Aaron, Roger, Sara, Ruth, Andy, Jack and Jere. The love of her life was her husband Jack who passed away in January 1975.
Salome was the devoted mother of Sallyann Mitchko and her husband Michael of Columbus, Georgia, and Jackie Rhodes and her husband John of Fayetteville; loving grandmother (affectionately called "Purp") of Courtney Tutalo and her husband John, Emily Nields and her husband Peter, and Adam Rhodes; and loving great-grandmother of Jack Tutalo. Salome was also the beloved "Grandma P." to Amy D'Arpino of Tucson, Arizona and Dominic D'Arpino of Minneapolis, Minnesota.
Salome was an active person who always asked, "What can I do to help?" She was Executive Director of the Broome County Foster Grandparent program. A position that she loved and that allowed her to make a movie with actor Lloyd Nolan regarding concerns about the lives of the elderly.
A long-time resident of Hillcrest, New York, she moved to Fayetteville in 2000, which allowed her to become active with community and church groups of Immaculate Conception Parish, of which she was a member, and spend more time with her family. She was an avid card player and lover of dogs, including her beloved Maltese, Molly. Salome was famous for her cooking, loved pie, and never was without a knitting project. Her favorite times were spent relaxing with loved ones at the family cottage on DeRyuter Lake.
Mass of Christian Burial: 10 a.m. Wednesday, Nov. 7 at Immaculate Conception Church, 400 Salt Springs Street, Fayetteville. Interment will be at Chenango Valley Cemetery, Hillcrest, New York, 11 a.m. on Thursday.
In lieu of flowers, memorial contributions may be made to Hospice Foundation of Central New York, 990 7th North Street, Liverpool, New York, 13088. For a guestbook, please visit scheppfamily.com.