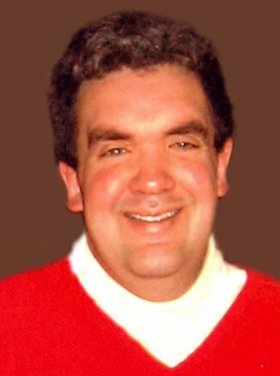 Michael P. Mangano
unknown - October 21, 2012
Michael P. Mangano, a friend to all he met, died Sunday, Oct. 21, 2012, at his Camillus home after a year-long illness he endured with dignity. Before his illness, his joyous personality was on display daily at his job at Top's Friendly Markets (formerly P&C) on West Genesee Street, where, for 26 years, he used his photographic memory to greet customers and make a personal connection to brighten their day.
Michael, 44, was also a partner in his family's business, bringing his life-affirming presence to his work at the Ramada Inn and the former Syracuse Farm Supply.
Michael found special happiness in holidays, particularly Christmas, when he annually squeezed into a snug Santa suit to bring the cheer of the season to young and old.
Michael had an encyclopedic recall of 1970s and 1980s television situation comedies, especially The Bob Newhart show. Like Dr. Hartley, he loved all things Chicago.
He was a 1989 graduate of West Genesee High School, where he served as manager of the varsity basketball team. He participated in the Special Olympics and was an active parishioner of Holy Family Church.
Michael was predeceased by his father, Salvatore Mangano and is survived by his mother, Marie (Emmi) Mangano; his brothers, Rocco (Roberta) Mangano and Anthony (Christi) Mangano; his sisters, Rosemary (Alberto) Bianchetti and Angelina (Vincent) Falotico; his lifelong friend, Kathy (Essig) Chiodo; and his nieces and nephews, Maria, David, Salvatore, Elena, Emily, Julianna, Tess, Anthony, Maria Teresa and Grace. Michael also had many aunts, uncles and cousins in Central New York and abroad.
Michael's family is grateful for the compassionate care provided by aides, Mae, MaryAnn, Kylie, Ashley and Barbara, and health care professionals at Hematology Oncology Associates, Crouse Hospital, and surgeons, Dr. Canute and Dr. Moquin.
Relatives and friends called from 4 to 7 p.m. Wednesday, Oct. 24 at the Buranich Funeral Home, 5431 W. Genesee St., Camillus. Services were at 10:30 a.m. Thursday, Oct. 25 at the funeral home and 11:30 a.m. in Holy Family Church where Rev. Richard P. Prior Jr., Rev. Carlo Stirpe, Rev. Frederick Mannara, and Deacon Nick Alvaro and Deacon Gregory Cross celebrated a funeral Mass. Michael was laid to rest in Woodlawn Mausoleum, Syracuse.
Contributions may be made in Michael's memory to the Holy Family Food Pantry, 127 Chapel Dr., Syracuse, N.Y. 13219. Please view the Mangano Family Video Tribute and share condolences at buranichfuneralhome.com.