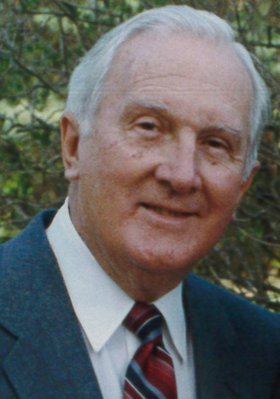 George F. McVay
unknown - November 2, 2012
George F. McVay, 89, of Syracuse and Skaneateles, passed away peacefully at home on Nov. 2, 2012. He was a devoted and compassionate family physician in the Syracuse community for over 36 years, serving at St Joseph's Hospital and the former St. Mary's Hospital. He was the beloved husband of Laila C. McVay for over 62 years.
Dr. McVay was born in Brooklyn, N.Y. His attendance at Queens College was interrupted when he joined the U.S. Navy in 1943, and was assigned to the V-12 Program at Hobart College. He attended Midshipman's School at Columbia University, Diesel Engineering School at North Carolina State College and was commissioned a Lt. J.G. and Chief Engineering Officer on the USS LST 492 from 1944–1946.
Under the GI Bill, he attended New York Medical College, interned at St. Joseph's Hospital in Syracuse, and did his internal medicine residency at The Lahey Clinic in Boston. He started his private practice in1953, and later became one of the founding members of the Family Practice Program at St. Joseph's Hospital.
He loved to sail, and was a tennis and golf enthusiast for over 50 years. He was predeceased by his siblings, Elizabeth Maurer, Robert McVay and William McVay. He cherished his wife, Laila C. McVay; his children Suzanne Novelli (Dr. David), Dr. Laila D. McVay, Michele McVay-Crowley (William), Janine McVay (Robert Pettersen), George S. McVay (Nancy), 10 grandchildren and three great-grandchildren. He loved many nieces, nephews and cousins.
Funeral services: Saturday, Nov. 10, .at the Cathedral of the Immaculate Conception Church, Syracuse. Burial was in Woodlawn Cemetery. Thomas J. Pirro Jr. Funeral Home handled local arrangements. Memorial contributions may be made to Hospice of Central New York. Words of comfort may be expressed at tjpfuneralhome.com.