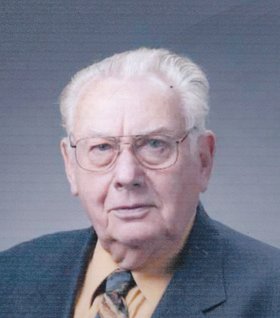 Roger B. Eidt
unknown - November 4, 2012
Roger B. Eidt, 85, of Baldwinsville passed away Sunday, Nov. 4, 2012 at Syracuse Home. He was married to Fredericka L. Ripple on Nov. 19, 1950. Roger worked in counter-intelligence in the U.S. Army while stationed in Germany at the end of WWII. He was a Scout Master for Boy Scout Troop No. 107, Baldwinsville during the mid 1960s and was a member of the PEACE Board and also was a member of OCRRA from 2003-2010, serving as vice chairman from 2004-2006. Roger was a Baldwinsville Village Trustee from 1972-74 and a member of American Legion Post No. 113 and the Seneca River Masonic Lodge No. 160, Baldwinsville. Roger worked at Allied Chemical, Solvay, retiring as a Production Manager. He later became VP at Will & Baumer Candle CO., leaving in 1977. He later worked as a Construction Manager on several large projects in S. Africa, Iraq, S. America and the US. Roger was predeceased by his daughter-in-law, Gwen Eidt in 1995.
Survivors: his wife of 61 years, Fredericka L. (Ripple) Eidt of Baldwinsville; his daughter, Darlene Eidt and her husband, Shane Riding of WY; two sons, Bradford Eidt of AK. and Steven (Mary) Eidt of Fabius; his brother, Allen (Barbara) Eidt of Baldwinsville; grandchildren, Nathaniel, Matthew, Kelley, Taylor and Derek Eidt, Machenzie Lucero and Cole Riding; great granddaughter, Mary Elizabeth Lucero; many cousins, nieces and nephews
Services: 11 a.m. Thursday, Nov. 8, at Falardeau Funeral Home, Baldwinsville. Burial: Greenlawn Cemetery, Warners. Calling hours: 4-7:30 p.m. Wednesday, Nov. 7, at Falardeau Funeral Home, 93 Downer St. Baldwinsville. Contributions: Syracuse Home Foundation, 7740 Meigs Rd., Baldwinsville, NY 13027.