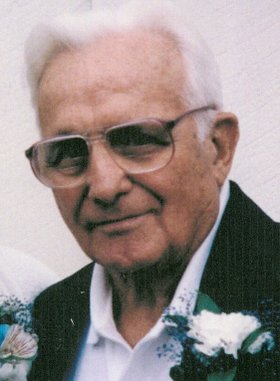 Raymond J. LaRose
unknown - November 3, 2012
Raymond J. LaRose, 96, of East Syracuse, passed away on Saturday, Nov. 3, 2012, at Iroquois Nursing Home. He was born in Syracuse on June 9, 1916, and served with the Army during WWII. Ray was employed by Crouse Hinds for over 30 years. Ray loved family and being home. He was a former competitive diver, avid bowler with the Fremont Classic League, a competitive jogger until age 78, and a former member of Past Time Athletic Club. Ray was active in the Pioneer Horse Shoe Club, was a state caliber horseshoe pitcher and a member of the Industrial League in softball and horseshoes. He was a communicant of St. Matthews and St. Mary's Church.
Ray is survived by Helen (Messinger), his wife of 58 years; two sons, John "Jack" LaRose of Camillus and Tom (Sue) LaRose of Chittenango; daughter, Sandy (Joe) Goncalves of Camillus; six grandchildren, Jenny (Mike) LaRose Holdsworth, Rachel Goncalves, Bethany (Phil) Doupé, Leah Goncalves, Joanna Goncalves and Danielle LaRose; brother-in-law Donald (Karen) Messinger; and several nieces and nephews.
Services: 9:15 a.m. Saturday, Nov. 10, at Newell-Fay Manlius Chapel and 10 a.m. at St. Mary's Church, Minoa. Burial will be in Pine Plains Cemetery, North Manlius. Calling hours: 4 to 7 p.m. Friday, Nov. 9, at the funeral home, 8171 Cazenovia Rd. (Rt. 92), Manlius. For directions, florists, or a guestbook, please visit scheppfamily.com.
In lieu of flowers, contributions may be made to the OCC Men's Tennis Program, Lafayette Cross Country Program or the Faith Heritage School Financial Aid Fund.