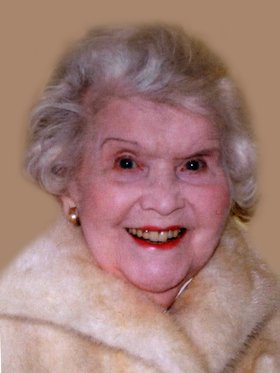 Nina Brown
unknown - November 3, 2012
Nina K. Brown, 94, of Camillus, passed away Saturday, Nov. 3, 2012, at Upstate University Hospital at Community General. Born and raised in St. John's, Newfoundland, Canada, she moved to Toronto in 1943, then to Camillus in 1968. Nina also enjoyed winters in St. Petersburg, Fla. She was a mom, homemaker, teacher and line worker at R. E. Dietz Co. She was raised in and professed her faith as a Salvationist and was currently a member of Christ Community Church of the Nazarene.
Nina was predeceased by her husband of 65 years, Robert "Arlie" Brown, in 2005; parents, Nathan and Lucretia Osmond; and siblings, Mark and Josie (Osmond) Davis, Jack and Mayme (Osmond) Pearcey, Ches and Myrtle (Osmond) Gruchy, Bill and Mildred Osmond, Bert and Gladys Osmond and Lucy Osmond.
Surviving are her daughter and son-in-law, Katherine and Dr. Melvin Chambliss of Alfred Station; son, Arlington Brown of Camillus; granddaughters, Diana, MaKenzie and MeKalea; grandsons, Kameron and Kalem; namesake, Nina Bacon; brothers and sister-in-law, Nathan, and Douglas and Phoebe Osmond; and numerous nieces and nephews.
Relatives and friends called from 4 to 7 p.m. Monday, Nov. 5, at the Buranich Funeral Home, 5431 W. Genesee St., Camillus. Services were at 11 a.m. Tuesday, Nov. 6, at Christ Community Church of the Nazarene, 3644 Warners Rd., Camillus with Rev. Art Magnuson officiating. Nina was laid to rest in Howlett Hill Cemetery, Camillus. Please share condolences at buranichfuneralhome.com.