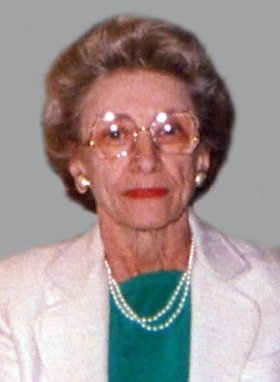 Theresa D'Onofrio
unknown - May 13, 2012
Theresa DeLorenzo D'Onofrio, 99, formerly of 460 Brattle Road, Syracuse, passed away Sunday, May 13, 2012 at Loretto. A lifetime resident of Syracuse, she was born on Wednesday, Aug. 28, 1912, and was the daughter of Maurice DeLorenzo and Carmella DeFina DeLorenzo. She moved to Camillus in 2001.
Theresa was a graduate of North High School and Syracuse Normal School and received her master's degree from SUNY Oswego. She retired in 1977 from the Syracuse City School District where she taught fashion design at Central Technical High School. She was a member of the original teaching staff from 1959 until her retirement. She designed her classroom and was affectionately called "Mrs. D" by her students. A communicant of St. Joseph's Church, she was a former communicant of Our Lady of Pompei Church and member of the Daughters of Columbus.
Theresa was predeceased by her husband, E. Meach D'Onofrio, in 1989.
Surviving are her daughter, Diane Curran of Camillus; son and daughter-in-law, Edward and Elaine D'Onofrio of Fayetteville; sister, Lee Raab of Westvale; brother, Emil DeLorenzo of Lakeland; seven grandchildren; 16 great-grandchildren; and several nieces and nephews.
Relatives and friends called from 4 to 7 p.m. Wednesday, May 16, at the Buranich Funeral Home, 5431 W. Genesee St., Camillus. A funeral Mass was celebrated at 10:30 a.m. Thursday, May 17, in St. Joseph's Church with Msgr. George F. Sheehan officiating. Burial was private in Woodlawn Cemetery, Syracuse. In lieu of flowers, contributions may be made in Theresa's name to the Loretto Foundation, 1305 Nottingham Rd., Jamesville, NY 13078. Please share condolences at buranichfuneralhome.com.