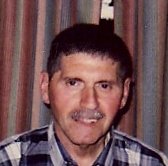 Mickey Sammartino
unknown - May 8, 2012
Mickey Paul Sammartino, 82, of Warners, passed away peacefully May 8, 2012, at his home with his loving family. A native of New Orleans, LA, he was born to parents Antonio and Jenny (Fragapani) Sammartino. When he married Lorna P. Bimson they moved to Rome, N.Y., and later to Warners where he lived the last 48 years. He served proudly with the U.S. Air Force in WWII during the Berlin Air Lift and with the US Army Reserves 10th Mountain Division until in 1982. He also owned Mickey's Barbershop in the Valley for many years, where he was known as "Mick" or "Sam." He was predeceased by his wife Lorna and a son Michael.
He is survived by four daughters and one son, Nadia M. (Patrick) Sims of Weedsport, Mark. P. (Karen) of Beaufort, NC, Christine E. Sammartino of Norfolk, VA, Shelley A. (Val) Sammartino of North Syracuse, Lisa B. (Jim) Webster of Bridgeport; ten grandchildren, Sheelagh, Kevin, Jason, Becky, Kristin, Sara, Tony, Jessica, Sheree and Joey; 13 great grandchildren, nieces, nephews, brother-in-law Leslie (Marleen) Bimson of charlotte, NC and sister-in-law Sylvia (Bil) Fitch of Preble.
Admiration for a quiet proud man that worked to obtain his GED in his forties, a man that helped many people through difficult times in their lives; his children grew up with intermittent times of having multiple families living in the home. Though he was a very hard working man Dad always had time for his children. Picnics and camping, teaching us to catch our first sunfish, going to our concerts, graduations and as a proud smiling father giving his daughters away at their wedding. Always wishing that he could have given us more, not realizing what he and Mom gave us was more precious than gold. I am sure we will share many fond memories and laughs as we raise a glass to our family foundation and ICON, and knowing that our Mom was waiting to meet him, gave him the peace that he needed. We Love you Dad.
Services: May 18 at B.L. Bush & Sons Funeral Home, 10 Genesee (Main) St., Camillus, with burial with military in Greenlawn Cemetery, Warners. In lieu of flowers contributions may be made to Hospice of CNY, 990 7th North St., Liverpool, NY 13088. Please sign his guestbook at blbush.com.