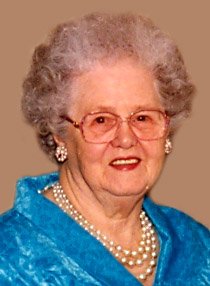 Mary Frank
unknown - May 9, 2012
Mary Connors Frank, 98, of Syracuse, passed away Wednesday, May 9, 2012, at Van Duyn Home & Hospital. Born in Cohoes on Saturday, Sept. 27, 1913, she was the daughter of Peter Ambrose Connors and Agnes Margaret Gaw Connors. She lived in Utica before moving to the Syracuse area.
Mary was employed for 13 years with Seneca Dairy. She was a communicant of The Church of St. Michael and St. Peter. An avid cook and baker, she enjoyed sharing her baked goods with her friends and family. She was known for her raspberry jam and for baking pies for others at Van Duyn. She also enjoyed watching the daily mass and praying the rosary.
Mary was predeceased by her husband, Joseph; daughter, Kathryn Frank; brothers, Bernard and Mark Connors; and sister, Eileen Connors Howard.
Surviving are her sons and daughters-in-law, Bernard and Judy Frank of Penfield and Robert and Judy Frank of Camillus; seven grandchildren and 18 great-grandchildren.
Relatives and friends called from 9 to 10 a.m. Monday, May 14, at The Church of St. Michael & St. Peter. A funeral Mass followed at 10 a.m. in church with Rev. Henry J. Pedzich officiating. Mary was laid to rest in Assumption Cemetery. Arrangements were by the Buranich Funeral Home, Camillus.
The family would like to thank the Van Duyn staff and Hospice for their kindness. In lieu of flowers, contributions may be made in Mary's name to Hospice of CNY, 990 Seventh North St., Liverpool, NY 13088. Please share condolences at buranichfuneralhome.com.