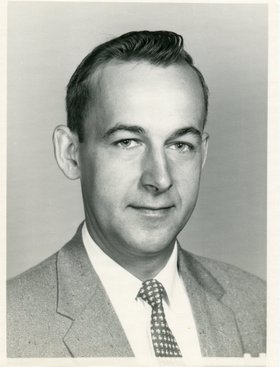 John Roloff
unknown - May 15, 2012
John Roloff, 85, of Baldwinsville, passed away on May 15, 2012, after a two-year illness. John was born in Buffalo to Richard and Laura Roloff. He served with the occupation forces in Germany in 1945-46. John was predeceased by his parents and his sister, June Rickman.
John is survived by his wife of 64 years, Marion, and six children: Bruce (Wendy) of Houston, TX, Paul (Ellyn) of Baldwinsville, Laura Lee Rainey (Tracy) of Kennesaw, GA, Claude of Kennesaw, Roberta of Baldwinsville, and Carol (Nick Lopez) of Katy, TX. He and Marion have 12 grandchildren, 2 great-grandchildren and special sons Ricardo (Patty) Carvacho of Chile and Harris Russell of NC.
John spent his entire life as an educator. He received his bachelor's degree at Brockport State and his master's degree in education at Buffalo State. He began his teaching career as a sixth grade math teacher in Lyndonville, NY. From 1962-1982 John was a school administrator in the Baldwinsville School District. He opened McNamara Elementary School, then moved on to Ray Middle School and Durgee Junior High. While working and raising the family, he also refereed soccer, basketbal, and football and enjoyed bowling and golf. He and Marion traveled to many places, including Mexico, Hawaii and Chile.
In retirement, John worked as a travel guide for several high school trips to Boston and Toronto, worked at the Carrier Dome and at several golf courses. He enjoyed all SU sports and held season's tickets to the basketball and football games until last year.
John and Marion have been members of the First Presbyterian Church of Baldwinsville since 1963 where he has held many volunteer positions that have supported the operations of the church.
At John's request, the Roloff family has made an anatomical gift to Upstate Medical University. Memorial service: 7 p.m. Friday, May 18, at the First Presbyterian Church in Baldwinsville with family greeting friends following the service. Friends may make donations in John's name to their favorite charity. The family would like to thank the staffs at the VA Hosp., St. Joseph's Hosp., and Iroquois Nursing Home for their excellent and loving care of our Dad.