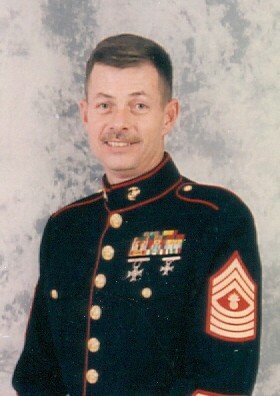 Charles Edgar Denson III
unknown - October 29, 2011
Charles Edgar Denson III died on Oct. 29, 2011. He was a retired master gunnery sergeant from the United States Marine Corps. Charles reported to Boot Camp, MCRD, Parris Island, South Carolina on Dec. 28, 1967. On April 15, 1968 he departed for combat service in the Republic of Vietnam. On Jan. 5, 1991 Charles departed Camp Lejeune, N.C. for the Persian Gulf. On June 1, 1991 he returned from the Persian Gulf and Saudi Arabia, with service in Desert Shield/Desert Storm. He retired from the Marie Corps on Jan. 1, 1996. He worked for the U.S. Postal Service for 16 years in Winchester, VA, while a member of the Marine Corps Reserves.
Master Gunny Denson received numerous awards including the Navy Commendation Medal, the Navy Achievement Medal, Vietnam Service Medal with Star, the Good Conduct Medal, Armed Forces Reserve Medal, National Defense Service Medal, Southwest Asia Service Medal, Kuwait Liberation Medal and Sea Service Deployment Ribbon.
At MSGT Denson's retirement in 1996, General Charles C. Krulak, Commandant of the Marine Corps, wrote the following remarks: "Many desire to attain your accomplished goals, but few can compare to you. You have clearly demonstrated the exceptional leadership qualities and professional contributions we seek of our senior Marines. We are proud, as you must be, of your most successful career."
Charlie is loved and remembered by his mother Bonnie Denson, his son Jeffrey Denson, his sister Roxanne Jackson and many other friends and family members.
Memorial service: 2 p.m. on Sunday, May 20, at Summit Church, 3360 Thompson Road, Cazenovia. To send online condolences to the family please visit taitfuneralhome.com.