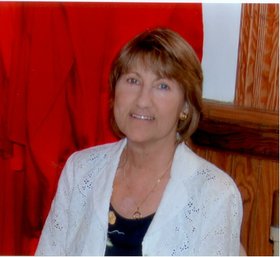 Anne Whelan
unknown - May 13, 2012
Anne K. McCarthy Whelan, 59, died Sunday afternoon, May 13, 2012, at her home in Marcellus. Anne received a kidney pancreas transplant in 1995 and she made the most of this precious gift of life. Anne graduated from Bishop Ludden High School and received her degree in special education from SUNY Geneseo in 1979. Anne was commissioned in the Cathedral of the Immaculate Conception as a parish administrator. She had the privilege of working at St. Leo's in Tully and at St. Charles Borromeo in Westvale. The kindness of Fathers Lou Aiello, Jim Carey and Brian Lang will never be forgotten. Anne was passionate about horses. She taught horseback riding for the disabled and she rode her Arabian, Josh, from LaFayette to Valley Forge on the 1976 Bicentennial Wagon Train.
She is predeceased by her parents Robert Quinlan and Helen Keane McCarthy; and a sister Betsy.
Anne is survived by her husband Michael Whelan; her sister Maureen McCarthy of Skaneateles; two brothers, Peter of Syracuse and Patrick of Elbridge. A niece and five nephews; and her newly-born grandniece, Zoey.
Calling hours: 4 to 7 p.m. Thursday, May 17, at Whelan Bros. & Hulchanski Funeral Home, 5854 Belle Isle Road, Syracuse, NY 13209. Mass of Christian burial: 11 a.m. Friday, May 18, at St. Charles Borromeo Church, 417 South Orchard Road. A private burial will be held in St. Mary's Cemetery, Dewitt. There will be a reception at the church immediately following the funeral.
Anne had a deep love of all animals, but her horses were her inspiration. It was the dream of being able to ride again that gave her so much strength and courage. If anyone wishes to make a gift in her memory, please consider the fund for the care of her beloved horses, Storey and Ben. Contributions may be sent to Pat O'Donnell at 2084 Lawrence Road, Marcellus, NY 13108.