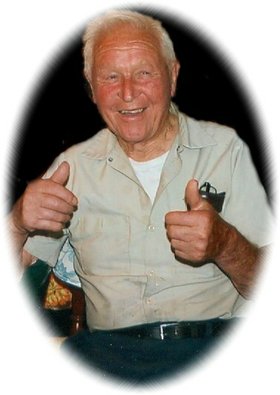 Karl J. Ammann
unknown - May 3, 2012
Karl J. Ammann, of Cazenovia, passed away on Thursday, May 3, 2012, at his home surrounded by his loving family. Karl was 95 years old. Karl was born Sept. 27, 1916, in Albany, Wisc. to Joseph Ammann and Marie Oschner.
Karl had been married to his wife Clara, for more than 70 years. Karl lived in the house that he built on Temperance Hill Road since December 1941. Karl is survived by his wife; three daughters Carol, Rosemarie (John) and Arlene (John); seven grandchildren, two great-grandchildren, his sister Mary Robotti, a cousin Walt (Dorothy) of Manlius and many nieces and nephews. Karl was predeceased by his brother Edwin, also of Cazenovia.
Karl raised his three daughters on a farm of 65 acres while working at Prosperity Company in Syracuse, teaching at Syracuse City Schools, and being owner and operator or Cazenovia Cabinet Shop. Karl was also a successful carpenter who used his hands to craft wood into various projects for friends and family. While on the farm Karl raised sheep, cows, chickens, bees and more.
Karl attended the one room schoolhouse that sits on East Lake Road. Over the years, he had written articles about the school and growing up in Cazenovia. Karl moved to Cazenovia when he was 6 years old and remained a resident until his passing.
Karl loved to be outdoors. He would tend to a garden every year and grow various vegetables that were shared with many neighbors and friends. Karl will always be remembered for his delicious homemade applesauce and apple cider each fall made from apples that he grew and tended to.
Karl was an avid traveler who visited all 50 states, Mexico, Canada, South America, Europe and Antarctica. Karl visited most of the states in the Continental USA in his full size RV truck that was transformed from a postal truck. In 1987 Karl was elected, along with his wife, to be International King and Queen of the National Retired Campers and Hikers Association. Karl shared his love of photography, animals, and journaling his stories with his family and it will continue to be passed on for many generations.
Karl was buried on Monday May 7with a mass of Christian burial at St. Ann's of Manlius. Karl was laid to rest in the Nelson Rural Cemetery.
The family would like to thank Father Cliff Auth of Saint Ann's for being there when they needed them. The family would also like to send many thanks to Brian Tait and the staff of Tait Funeral Home, for their generosity, patience, and kindness in their time of need. Brian made the loss of a loved one much easier.