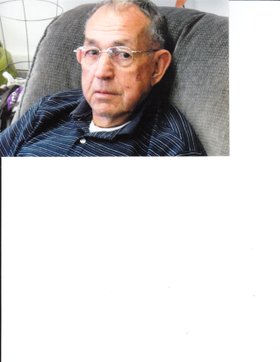 Howard P. Juno
unknown - May 9, 2012
Howard "Jake" P. Juno, 83, of Weedsport passed away peacefully on Wednesday, May 9, 2012, at his daughter's home with his family at his side. He was born in Altmar, N.Y., where he was raised and educated. Mr. Juno was a proud WWII U.S. Army veteran. He was employed for Millbrook Bakery Company in Syracuse for 17 years and finished his career in Martin's Ferry, OH, as assistant chief engineer with Nickles Bakery for 10 years before retiring in 1995. Jake dedicated his life to his family. He will be remembered for his hard work ethic and his love for dancing and auto racing. He is predeceased by his grandson, Jonathan, and several sisters and brothers.
Surviving is his devoted wife of 60 years, Beverly I. (Loper) Juno of Weedsport, three sons, Howard"Butch" F.(Vicki) Juno of Hannibal, Michael C. (Pam) Juno of Grand Rapids, MI, Thomas J. Juno of Baldwinsville, two daughters, Linda M.(Charlie) Gilliland of Bel Air, MD, Patricia "Patti" E. Merritt of Memphis, N.Y., 12 grandchildren, five great-grandchildren and many nieces and nephews. Jake will also be sadly missed by his canine companion Otto.
Calling hours: noon to 2 p.m. Saturday, May 12, with funeral services following at 2 p.m. at the Maurer Funeral Home Moyers Corners 3541 Rt.31, Baldwinsville. Burial will follow in Lysander Union Cemetery.