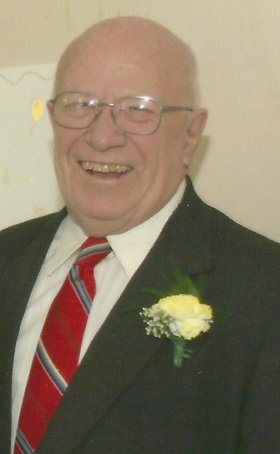 Hobert Cook
unknown - May 6, 2012
Hobert Cook, 83, of Cazenovia, passed away May 6, 2012, at St. Joseph's Hospital in Syracuse. Mr. Cook owned and operated Maple Ridge Farm in Cazenovia with brother David until 1984. He then had his own contracting business and later became manager of the Cazenovia Club. He was a past member of the Future Farmers of America, town of Cazenovia Planning Board and a past leader of 4-H. He was also a talented percussionist playing for many years in the Shrine Band and Cazenovia Town Band. Hobert was a lifelong member of the Masons serving numerous offices at both the local and state levels. Some his many offices included: Master of Lodge #616 F&AM in Cazenovia (1964, 1988,1993,1997); Assistant Grand Lecturer F&AM 1969; District Deputy Grand Master F&AM 1977; Treasurer 1998-2000; Secretary 2000-2012 Cortland Madison District Youth Committee and the Committee on Community Service; High Priest Owahgena Chapter #303 of the Royal Arch Masons;
Grand Chapter Committee on Masonic Education and Service; District Deputy Grand High Priest and Grand Lecturer of the Royal Arch Masons of the Grand Chapter of the State of New York and named Grand Lecturer Emeritus following his retirement from this office; Illustrious Master of the Cryptic Masons Central City Council #13; Illustrious Master and dual member of Rotica Council #12;
Eminent Commander of the Knights Templar of Norwich Commandery #46, Zone Officer of Zone #6
Recorder for the Norwich Commandery for over twenty years; Eminent Prior of the Knights of the York Cross Crusade Priory #57; Member of Red Cross of Constantine
Surviving are his wife of 58 years, Ilse; children, Walter (Kathleen) of Sheds, William (Bernadette) of Pittsford, Dona of Cazenovia and Thomas (Lisa) of Fairport; brother David of Cazenovia; sister Nellie Johnson of New Woodstock; six grandchildren and several nieces and nephews. Funeral services: May 13 at the Nelson United Methodist Church. Calling hours were at the Tait Funeral Home, 2333 Fenner Road in Cazenovia. To leave online condolences, please visit taitfneralhome.com. Contributions may be made to The Masonic Medical Research Laboratory, mmrl.edu, or The Eastern Star Home, eshomeny.org.