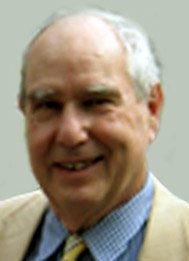 R. Terry McClurkin, Sr.
unknown - April 28, 2012
R. Terry McClurkin, Sr., 74, of Syracuse, passed away Saturday, April 28, 2012 at St. Joseph's Hospital Health Center, surrounded by his loving family. Born in Birmingham, Ala. on Saturday, Feb, 5, 1938, he was the son of Charles C. McClurkin, Sr., and Dorothy Laswell McClurkin. He grew up in the Camp Hill area of Pennsylvania before moving to Syracuse in 1965. He was a graduate of West Shore High School and received a bachelor's degree in education from Shippensburg State College.
Terry was an Army veteran of the 82nd Airborne. He was currently employed by Sutton Real Estate as a commercial real estate broker and was a communicant of the Cathedral of the Immaculate Conception. He enjoyed vacationing in the Adirondacks and spending time with his family.
Surviving are his wife of 50 years, Barbara; children, Richard (Maureen) McClurkin, Barb McClurkin and Gregory (Gina) McClurkin, all of Syracuse, Sarah (Erik) Whittle of Saratoga Springs and Heather (Chris) Leahey of Liverpool; sister, Patricia Lambirth of Olympia, Washington; brothers, Charles of Houston, Texas, Sam of Enola, Pennsylvania and Michael of Mechanicsburg, Pennsylvania; grandchildren, Hannah, Emma, Ava, Ian and Ryan; and several nieces and nephews.
Relatives and friends called from 4 to 7 p.m. Thursday, May 3, at the Cathedral of the Immaculate Conception. Msgr. Neal Quartier celebrated a funeral Mass at 10 a.m. Friday, May 4, at the Cathedral. Arrangements were by the Buranich Funeral Home, Camillus. In lieu of flowers, contributions may be made to the Cathedral of the Immaculate Conception, 259 East Onondaga St., Syracuse, NY. Please share condolences at buranichfuneralhome.com.