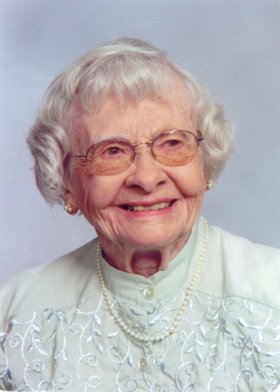 Honor C. C. Daniel
unknown - May 2, 2012
Honor C. Daniel, 102, died on Wednesday, May 2, 2012, at The Nottingham in Jamesville. She was born in Buffalo on March 13, 1910, the daughter of Harry H. and Gertrude (Wilson) Cook. Raised in Buffalo, Chicago, and Sharpsville, PA, she graduated from the Buffalo Seminary in 1929 and from Mt. Holyoke College in 1933 with a degree in economics.
Mrs. Daniel was employed by the American Brass Company in Buffalo until her marriage to Claude W. Daniel on Oct. 9, 1937. Except for a few years in Waterbury, CT, they always lived in the Kenmore-town of Tonawanda area. Mrs. Daniel moved to The Nottingham in 1992 to be closer to her daughter. She is remembered best for her life-long love of bridge, her gardening skills, her interest in other people, and her kind and gentle spirit. Her great-grandchildren will remember the cookies she always served when they visited and the many teddy bears scattered around her apartment.
Mrs. Daniel was predeceased by her husband, who died in 1977, and by her sister, Helen Cook.
Surviving are her daughter, Nancy D. (James) Schiffhauer of Manlius; her son, Roger H. (Jacqueline) Daniel of Attica, N.Y.; five grandchildren, David Schiffhauer of Penfield, N.Y., Jill Baxter of Gibsonia, Pa., Karin Silva of Watertown, Melanie Blow of Rochester, and Heather Daniel of Attica; and 10 great-grandchildren.
Funeral services will be private. She will be buried in Elmlawn Cemetery in the town of Tonawanda, N.Y. For a guestbook, please visit scheppfamily.com. In lieu of flowers, contributions may be made in her memory to the charity of your choice.