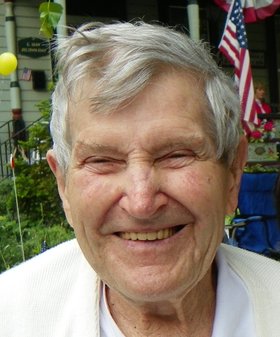 Warren S. Stahl
unknown - April 29, 2012
Warren S. Stahl, 91, of Baldwinsville passed away Sunday, April 29, 2012, at Crouse Hospital. He was a dairy farmer all of his life, enjoyed dancing and making friends with all those he came in contact with.
Survivors: His wife of 66 years, Emma (Amo) Stahl of Baldwinsville; a daughter, Nancy Cunningham of Baldwinsville; his son, Gary Stahl of Baldwinsville; 4 brothers, Bruce (Lorraine) Stahl of NC, Roger (Terry) Stahl of GA, Lloyd (Jean) Stahl of Central Square and Jon (Fran) Stahl of Cato; 5 grandchildren and 4 great grandchildren.
Services: 10 a.m. Saturday, May 5, at Falardeau Funeral Home, Baldwinsville. Burial, Kingdom Cemetery, Town of VanBuren. Calling hours: 4-7 p.m. Friday, May 4, at Falardeau Funeral Home, 93 Downer St., Baldwinsville.