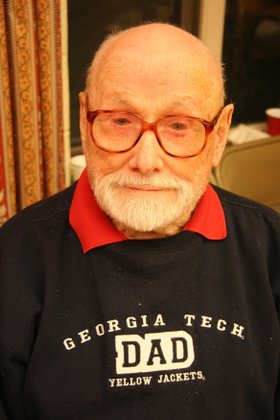 William Duncan Leahy
unknown - March 22, 2012
William Duncan Leahy, 40-year resident of Skaneateles, passed away March 22, 2012, just one day short of his 91st birthday.
After an abbreviated stay at the Syracuse VA Medical Center where it was determined a cancer, originating in his pancreas, had spread and was terminal, Leahy was settled in at Matthew House in Auburn for the last leg of his adventure. The Hospice of the Finger Lakes managed his health care, while the able and kind staff of Matthew House attended to his comfort.
In addition, he joyfully welcomed a slew of visitors to his bedside during his six-week stay, which included family and friends from all across the United States. He also was regularly visited by his second son Michael via Face Time.
His oldest son, William Duncan Leahy, Jr., and daughter, Ellen Leahy, were with him when he passed away. They played him out to the trumpet music of Chris Botti.
Leahy was born in Jersey City, NJ, to James W. Leahy and Elizabeth Kelly Leahy on March 23, 1921. He had an older sister Jane who died in childhood during the 1918 Spanish Flu pandemic, an older brother Jay (Jean) who passed away in 1985, a fraternal twin brother John (Elise) aka "Jack," who passed away in 1998 and a younger brother Frank (Joyce) who lives in Cockeysville, MD. All four Leahy men served their country during World War II, making their mother, a four gold star mother.
Leahy was married to Marion Meers Smith who passed away in January of 2011. They had been married for 64 years. They had five children: William Duncan Leahy Jr. who is married to the former Jacquelyn Adair Bates (Georgia), Michael Patrick Leahy who is married to the former Vickie Ringle (Arizona), Timothy James Leahy who is married to the former Caroline Mazur (California), Ellen Leahy who was married to Mark Seymour (Skaneateles) and Stephen Leahy who was married to Shawn Quigley (Rhode Island).
Leahy also had eight grandchildren: Kelly (Evan) Whitney, Megan Leahy, Melanie Smith, Heather (Marc) Dixon, Lauren Leahy, Joe Leahy and Dana Leahy; and six great-grandchildren: Zak Dixon, Caleb Dixon, Ashton Smith, Ayla Smith, Adilyn Smith and Tabitha Whitney.
After a life lived with several unusual cats, Leahy is survived by one rescue puppy that he adored, Irene.
Leahy attended PS 17 in Jersey City (school song: "If I be at 17's gate; At half past eight; I shan't be late."), Spring Lake Elementary in Spring Lake, NJ, and Manasquan High School in Manasquan, NJ, where he took the classical course and was in student government, the Hall Patrol, the Latin Club, the Spanish Club and the Drivers Club. His motto was recorded in the yearbook as "Hail to thee, blithe spirit!" He said he was the smallest kid in his graduating class, including all the girls, weighing in at 106 pounds.
He attended Rutgers University and terminated his studies early to repel the Axis during World War II. He trained at Colgate University as a naval aviator and flew a variety of aircraft culminating with the Lockheed PV Ventura Patrol Bomber. After ferrying planes around United States bases and advanced training including firing rockets, he made his way over to Tinian in the South Pacific as a member of a replacement crew just as the war ended.
After the war, Leahy returned to New Jersey where he was reintroduced to his future wife, Marion Smith, whom he had met in student government at Manasquan High. They were married in St. Catherine's Church, Spring Lake, NJ, on Nov. 29, 1947. They then celebrated their nuptials over daiquiris and Manhattan cocktails at the Manasquan River Golf Club accompanied by dinner and dancing before heading to Sea Island, Ga., for their honeymoon.
Leahy worked in the electronics industry as a salesman for RCA for more than 30 years. During that time he was based out of the New York Metropolitan area, Los Angeles, Boston, Mass.; and Syracuse. He also held positions with PerSci and his own firm, Leahy & Thompson. Upon retiring, he went to work in marketing at the Sherwood Inn, Skaneateles, where he established a demand for in-house catering. Later, he did a stint as a bartender in the Sherwood's Tavern (nicknamed "Coach") before settling into a position at the inn's front desk where he billed himself as "The oldest living desk clerk."
Meanwhile, he worked as an ambassador for Eastern and Continental airlines. A seasoned traveler, Leahy could recount a number of amazing adventures such as the time he was asked to man a Parisian police station by the French force during an emergency; the happy occasion where he proceeded over the nuptials of a couple in an English Pub from behind the bar; and the night he accidentally spent partying in LA with comedian Jonathan Winters.
In addition, he was a volunteer firefighter in Sea Girt, NJ; assisted his wife Marion in the direction of the Meals On Wheels program in Skaneateles; sold Peter Lord's stretch bread at the Regional and Skaneateles Farm Markets; and drove for Friends In Service Here (FISH) in Skaneateles.
Leahy fell in love with teaching in his late 70s and 80s when he volunteered to introduce senior citizens to the basics of computer technology at the Wagon Wheel Senior Center in Syracuse, the Onondaga Senior Center on Onondaga Hill and at the Skaneateles High School. It was at this time that he was dubbed, "Mr. Chips."
He had been an avid golfer, a lifelong tennis player, a fisherman, boxed in the Navy (0-6), bridge enthusiast, member of several gourmet dinner clubs, woodworker, home remodeler, crossword puzzler and an accomplished driver, sailor and pilot with remarkable navigation skills.
Leahy loved music, starting as a fife player in PS17's Drum and Bugle Corp. He could play a little piano and won a Twist contest in the 1960s. He attended many great concerts throughout his life and was an avid fan of CNY local artists including The Dean Brothers Band, Joe Whiting and Loren & Kevin Barrigar.
After many stints as a master of ceremonies during his professional life, Leahy fulfilled a lifelong dream to work as a comedic performer in show business, appearing as the opening act "The Sit Down Comic," for Kelly Kinsella's one-woman show, "When Thoughts Attack," at the Palace Theater, Syracuse under the direction of Louis DiNolfi. Sadly, he entered the hospital the morning after his debut and proceeded on his last big adventure, that of dealing with cancer. Fortunately, Leahy had a huge admiration for his doctors and a fondness for nurses, which made all the difference in the world.
It's important to note that Leahy was the unprecedented member of two Hilltopper gentlemens' lunch groups, both of which he enjoyed thoroughly, along with the Hilltop's well-trained, endearing staff of lovely waitresses.
Leahy recently told a group of Skaneateles Middle School students that his proudest accomplishment was his family, but perhaps Bill's most striking feat was his care of his first and only wife Marion during her prolonged illness.
It is also intetesting to note that the two just crossed paths again in Upstate Medical Student's lab as they had both donated their bodies to science through its anatomical giving program (upstate.edu/cdb/donor/).
The family will be celebrating Bill's wonderful life starting at 1 p.m. Sunday, April 1, with an Irish Wake at home at 109 Jordan St., Skaneateles, NY 13152. Parking is available in the Austin Park Pavillion's lot. Please feel free to drop in or to stay for a story or two. If the weather is nice, bring comfortable shoes for a tour of Skaneateles' secret garden. Contributions can be made to Skaneateles' SAVES at savesambulance.com/ or Matthew House (his last little homeplace) at matthewhouse.org/giving.html.